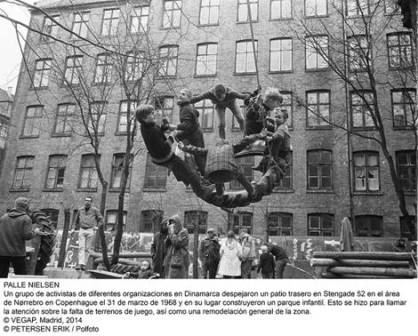 Posted: 16 May 2014
Comments: No comments
Cultural recommendation for the week
Exhibition "Playgrounds: reinventing the square"
"Through a selection of works from different historical periods and languages ​​(paintings, sculptures, installations, videos, photographs, archival devices...), this exhibition analyzes the socializing, transgressive and political potential that the game has when it appears linked to public space . Playgrounds starts from a double premise. On the one hand, the popular tradition of carnival shows us that there is the possibility of using playful logic to subvert, reinvent and transcend, even if only temporarily, the established order, the everyday that has become a mere exercise in survival. On the other hand, the utopian imaginary has had two fundamental constants throughout history: the vindication of the need for free time (as opposed to working time, productive time) and the recognition of the existence of a community of shared goods, whose main area of ​​materialization would be the public space."
Extracted from Reina Sofia Museum.
See also:
http://www.museoreinasofia.es/sites/default/files/notas-de-prensa/dossier_playgrounds.pdf
http://www.elcultural.es/noticias/ARTE/6194/Es_el_museo_un_patio_de_recreo
—
Dates: from April 30 to September 22, 2014.
Site: Reina Sofía National Art Center Museum. Sabatini Building, Floor 1 (c/ Calle Santa Isabel, 52. Madrid).
Hours: Monday, Wednesday, Thursday, Friday, Saturday 10:00 a.m. – 21:00 p.m. Closed Tuesdays, including holidays.
Sunday 10:00 a.m. – 14:30 p.m. The entire Museum is open. From 14:30 p.m. to 19:00 p.m. Open Collection 1, Richard Serra and the exhibition Time and Things. Hanne Darboven's home-studio. The rest of the Museum will remain closed.
Price: temporary exhibitions €4.