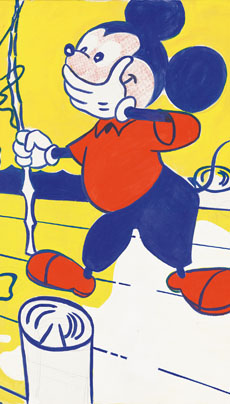 Posted: 13 June, 2014
Comments: No comments
Cultural recommendation for the weekend
Exhibition "Myths of Pop"
"With a selection of more than one hundred works, which include both the pioneering experience of British pop and classic North American pop and its expansion throughout Europe, the exhibition aims to trace the common sources of international pop and review the myths that have traditionally defined to the movement. The objective is to show that the mythical images of such significant artists as Warhol, Rauschenberg, Wesselmann, Lichtenstein, Hockney, Hamilton or Equipo Crónica, among many others, hide an ironic and novel code of perception of reality, a code that is still valid in the art of our days.
Taken from Thyssen Museum.
See also:
http://www.museothyssen.org/microsites/exposiciones/2014/mitos-del-pop/
http://www.abc.es/cultura/arte/20140605/abci-museo-thyssen-exposicion-201406042134.html
http://cultura.elpais.com/cultura/2014/06/06/actualidad/1402077242_412634.html
—
Dates: From June 10 to September 14, 2014.
Site: Thyssen-Bornemisza Museum (Paseo del Prado 8, 28014 Madrid).
Schedules: Until September 14, the temporary exhibitions are open from Tuesday to Saturday from 10.00:22.00 a.m. to 10.00:19.00 p.m. and on Mondays and Sundays from XNUMX:XNUMX a.m. to XNUMX:XNUMX p.m.
Price: General admission €11 and reduced €7.