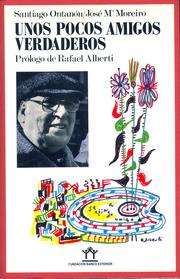 Posted: 1 July 2014
Comments: No comments
The favorite books of our readers
"A few true friends" Santiago Ontañón and José María Moreiro
"This is the life story of the Spanish painter, playwright, set designer and actor Santiago Otañón. Contains references to over 500 artists from the author's personal recollections. The book is in some ways a living encyclopedia of a vibrant period of 20th-century European culture."
Taken from openlibrary.
See also:
https://openlibrary.org/works/OL4857455W/Unos_pocos_amigos_verdaderos
http://margaritaxirgu.es/castellano/vivencia2/62ontanc/62ontanc.htm
The selected titles are a sample of the recently loaned International Institute Library materials.
If you are interested in this work, you can check its availability at IIE library catalog.
(A) few true friends / [by] Santiago Ontañón [and] José María Moreiro ; foreword and cover illustration by Rafael Alberti. — Madrid: Banco Exterior Foundation, DL 1988.
251 pages : ill. ; 23cm
ISBN-84 86.884-60-8
NX 562 .O58 1988
R. 63828000