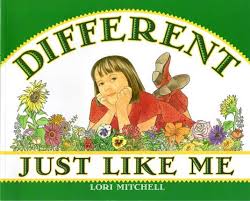 Posted: 9 July 2014
Comments: No comments
Featured news of the week
"Different Just Like Me" by Lori Mitchell
"This celebration of a world of difference is sure to make every reader appreciate the distinctive qualities in themselves and everyone around them."
Taken from Goodreads.
See also:
http://www.differentjustlikeme.com/
http://www.publishersweekly.com/978-0-88106-975-4
The recommended titles are in the Library of the International Institute. If you are interested in having access to them, you can check their availability in the catalog of the library
Different just like me [Printed text] / Lori Mitchell. — Watertown: Charlesbridge, cop. 1999.
1 vs. (no page) : ill. ; 20cm
ISBN 978-1-57091-490-4
PZ 7 .M57 D5 1997
R. 201166063