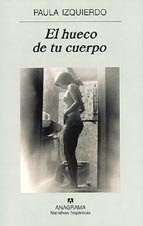 Posted: 30 July 2014
Comments: No comments
The favorite books of our readers
"The hollow of your body" by Paula Izquierdo
"Blanca Vallejo, a photographer obsessed with the perfection of the moment made image, a character traced by the author with a truly unusual psychological finesse, only seeks what so many women in our world also pursue: the gift of self-esteem. Demonstrating that it can be achieved is one of the best achievements of this unique book. "
Taken from Anagram.
See also:
http://elpais.com/diario/2000/01/26/cultura/948841213_850215.html
http://www.elmundo.es/elmundolibro/2000/07/07/anticuario/962899669.html
http://www.elcultural.es/version_papel/LETRAS/15106/El_hueco_de_tu_cuerpo
The selected titles are a sample of the recently loaned International Institute Library materials.
If you are interested in this work, you can check its availability at IIE library catalog.
The recommended titles are in the Library of the International Institute. If you are interested in having access to them, you can check their availability in the Library catalog.
(The) hollow of your body / Paula Izquierdo. — 2nd ed. — Barcelona: Anagram, 2000.
232 pages; 22cm — (Hispanic Narratives; 277).
DL B 8177-2000. — ISBN 84-339-2447-8
PQ 6659.Z75 H8 2000
R. 80415000