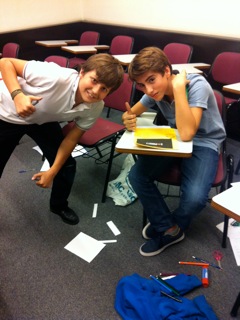 Posted: November 4, 2014
By: wp support
Comments: No comments
The Latest News from Young Learners 4!
This autumn at the International Institute, the students of Young Learners 4 have been getting to know each other! Everyone is very nice, friendly and loves to practice English!
The students have been asking each other lots of questions that start out with "Have you ever…" in order to practice the present perfect tense.
They have asked questions like: "Have you ever visited Retiro Park?" "Have you ever been to the United States?" "Have you ever played soccer?" It turns out everyone has a lot in common!
The students have also been talking a lot about movies. Autumn is a great time for horror movies – one of their favorite genres. Here are some photos of them working on their movie review project essays and posters. Soon they will do presentations talking in front of the class about a movie they've seen; they'll let you know how everyone did in the next blog post!