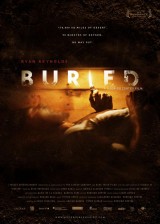 Posted: November 17, 2014
Comments: No comments
The collection in use: "Buried" directed by Rodrigo Cortés
"Paul Conroy (Ryan Reynolds), a family man and civilian contractor in Iraq, is kidnapped and wakes up buried alive in an old wooden coffin, with only a cell phone and a lighter in his possession."
Taken from Amazon.
See also:
http://www.filmaffinity.com/es/film856879.html
http://www.elcultural.es/videos/video/569/CINE/Rodrigo_Cortes-_Buried_no_se_ve_se_experimenta
http://www.youtube.com/watch?v=Vcjf0z7bChc
http://www.imdb.com/title/tt1462758/
The selected titles are a sample of the recently loaned International Institute Library materials.
If you are interested in this work, you can check its availability at IIE library catalog.
BURIED [DVD] / director, Rodrigo Cortés. — [Sl]: Versus entertainment, cop. 2010.
1 DVD (ca. 95 min) : son., col.
Ryan Reynolds. — Spain, 2010. — Not recommended for people under 21 years of age. — Languages: Spanish, English; Spanish subtitles.
ZW .C6759 B97 2010
201166426