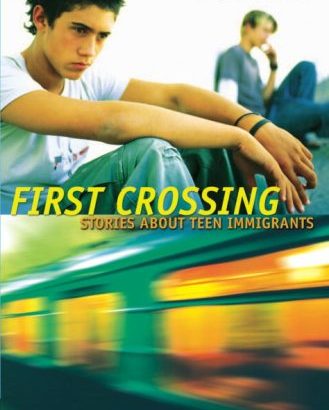 Posted: 12 February, 2015
Comments: No comments
Novelties in youth narrative on immigration and interculturality
From the library of the Institute we try to broaden the vision of adolescents who use the library by offering them works in English that, in addition to helping them improve their level in this language, broaden their level of tolerance and respect for what is different. On this occasion we have looked for works that bring them closer to the situation of those who experience immigration and the process of adaptation to a different vital and cultural environment.
Among the Anglo-Saxon titles that exist on these topics we have chosen the following:
FIRST crossing: stories about teen immigrants / edited by Donald R. Gallo. —Somerville, MA: Candlewick Press, 2007.
It's hard enough being a teenager, trying to fit in, trying to get along with your parents, trying to figure out how the world works. Being from a different culture makes everything that much more difficult. This anthology offers us 10 short stories written by different authors about young people who arrived in the United States from different parts of the world in this situation.
Escaping the tiger/ Laura Manivong. — 1st. ed. —New York: Harper, 2010.
This novel narrates the difficult experience of Vonlai Sirivong, a 12-year-old boy, and his family to escape from Laos to Thailand. They leave behind what little they had to go live in a refugee camp. A story full of emotions in which Vonlai fights to try to make his dreams come true, knowing that for this he will have to get out of there.
Shadow/Michael Morpurgo; Illustrated by Christian Birmingham. —London: HarperCollins Children's Books, cop. 2010.
In this work, the renowned author M. Morpurgo brings us closer to the relationship between two friends (accompanied in the story of a wise grandfather and a faithful dog): Matt and his schoolmate Aman, who has been locked up in a detention center immigrants and faces forced repatriation to Afghanistan. By recounting the various events that Aman had to face before arriving in Britain and his present situation, readers will be able to better understand the lives of those who are forced to flee their land and the procedures that govern immigration laws.
Touching Snow/ M. Sindy Felin. —New York: Atheneum Books for Young Readers, 2011.
The inspiration for this debut novel by National Book Award finalist M. Sindy Felin comes from her own experiences in an immigrant neighborhood in suburban New York. In writing the story of Karina, a young woman between two cultures, Sindy drew on real-life social aspects of Haitian immigrant families in the community where she grew up. This is a hard but necessary novel that raises a serious question: how far are we willing to go to protect our loved ones?