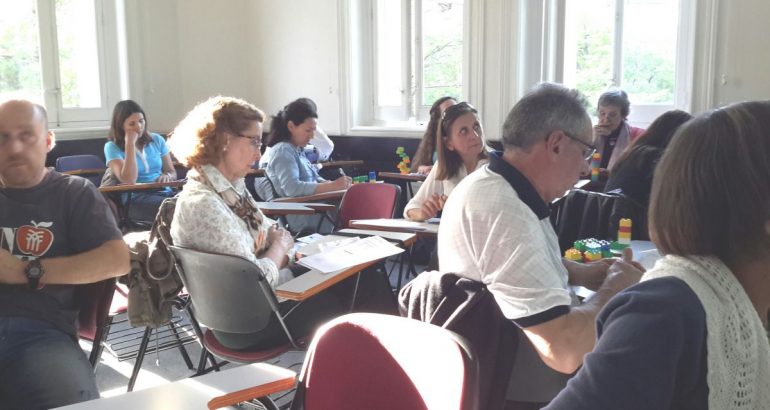 Posted: 12 May 2015
Comments: No comments
Notes from 2015 talks for parents and teachers: Learning to Teach
This year we have had three excellent talks by some wonderful professionals from the world of international and bilingual education. Dr. Linda Gerena from City University of New York followed up on her talk about Building Vocabulary through Children's Literature last December with an engaging session about using questioning to develop critical thinking with students at school and at home.
Linda modeled several activity types to encourage questioning and higher-order thinking. One was a cooperative learning technique called Think-Pair-Share. Linda also explained that prediction is the easiest and first critical thinking strategy to teach children.
Here are the notes from Linda's talk:
LG critical thinking April 2015
Teachers and parents had lots of ideas and questions for Linda, and everyone enjoyed a relaxed chat in the IIE café after the session.
On May 7th we had our first talk with a mother-son team of speakers! Dr Veronica Steffen of the International Baccalaureate Organization and Universidad Camilo José Cela, and her son Daniel Prieto, who is a neuroscientist, language and culture assistant in a bilingual school and Kids' Club teacher at the Institute were here to discuss brain-based learning:
Veronica and Daniel's presentation was summed up nicely by this slide:
Here is the presentation from the Steffen-Prieto talk on May 7th:
P1 FINAL Implications of 'The Tale of Two Brains'
Finally, on May 11th, Anna Steele of the Complutense and Comillas universities joined us to discuss Creative Parenting for a Unique Multilingual Family Environment. Ms. Steele has many years' experience in bilingual education as a teacher, teacher educator and a mother of a bilingual family.
Anna shared personal anecdotes, professional insights and invited parents to discuss their family language contexts. The children even helped with some activities!
Anna's presentation can be found here:
affect materials A Steele 15.05.15
Interested parents are invited to two follow-up discussions: Bilingual Family Forum on Saturday May 23rd and June 6th from 11:30 to 12:30. Here families will share ideas about integrating more than one language into family life creatively. Please sign up in advance.