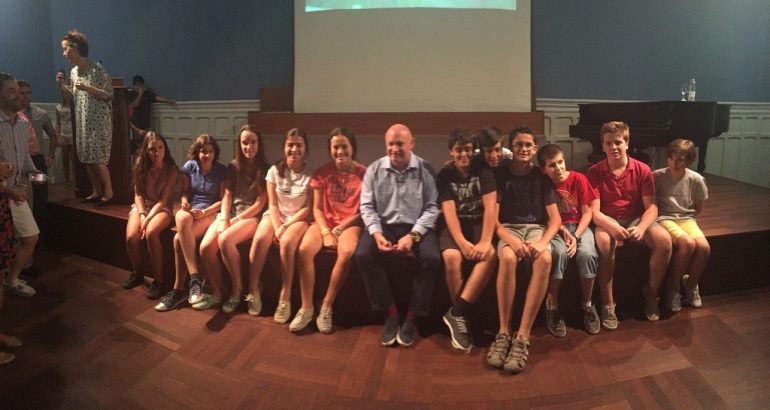 Posted: 17 July 2015
Comments: No comments
Special guests and Exciting Explorations at Summer in the City 2015!
On Wednesday the boys from Green y Blue they received a new visit from American teenagers willing to exchange conversations and games. As it was very hot, this time they stayed in the paraninfo, and later they continued chatting while having a drink together. Jocelyne and Beth, the two teachers from the Institute, prepared some fun games and activities. Many thanks to Evan Overton from Philadelphia and a Boston University alumnus at the Institute for once again bringing his students to know the Institute.
The next day, all the students at the camp were lucky enough to meet a real astronaut, with a visit from mark kelly.
To prepare for the visit, the students read these articles about the astronaut who came to visit them in the magazines Junior Scholastics y ScholasticNews, both available in our Library. They came to the talk with all their questions prepared!
Kelly talked about her childhood, her training, her experiences in space, and reminded us that even if you're not the best student in the class, if you have something you're passionate about, and you focus on being great at it, you can go very far. Students and other attendees were able to ask him questions about life in space and the future of space travel. After her, all the students asked her for photos and autographs, and she gladly obliged them.
Here you have the embassy album of Mark Kelly's visit. Many thanks to the Embassy and to Jean Choi from American Space Madrid for organizing this visit and having the students of Summer in the City 2015!
And don't forget to see what the students of Green in the blog of your group!