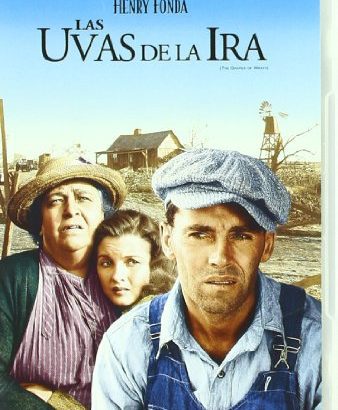 Posted: 14 December, 2015
Comments: No comments
CINEMA FORUM ON AMERICAN CINEMA / "LAS GRAPES DE LA IRA": ASPECTS TO CONSIDER DURING THE VISUALIZATION OF THE FILM FOR THE SUBSEQUENT DEBATE
The great classic of American social cinema from the golden years of Hollywood, along with Our Daily Bread (King Vidor, 1934).
Great film, which combines social indignation with emotion, without demagoguery or underlining, always with the right tones, in its reflection of the so-called Great American Depression, which broke out as a result of the economic Crash of 1929, the greatest crisis that the capitalist system in the United States. Also outstanding is the proverbial ability of its great director, John Ford, to get along with the characters, and achieve an empathy of the viewer with them, no matter how distant they are from us.
The photography of Gregg Toland also stands out, who had done this work in Citizen Kane, and who confers a certain baroque dreamlike quality to the tone of the film. On the other hand, the script lowers the sleaze of the novel, for reasons of self-censorship.
It belongs to the time when the superb director John Ford was working mainly for producer Darryl F. Zanuck at 2oth Century Fox. Ford's previous two films for this company were Young Lincoln (1939) and Good Hearts (1939), which They were just the first two that he does with the leading role of Henry Fonda, the protagonist of this one. Just that year, Ford had conquered a category of first order in American cinema just the year with Stagecoach (1939). Also within Fox, Ford returned to reflect the Great Depression the following year through The Tobacco Route (1941). As for Henry Fonda, this film cemented his image as a hero who was both steadfast and thoughtful.
He won two Oscars, for the director and for Jane Darwell for the role of the mother. Henry Fonda, who was also nominated, lost it for the James Stewart of The Philadelphia Story. It was an outstanding commercial success, the biggest of any Fox production of the year.
The novel appeared in 1939, reaping enormous success and winning the Pulitzer Prize. The author, John Steinbeck, would say of the film: "It is as splendid as a film can be."