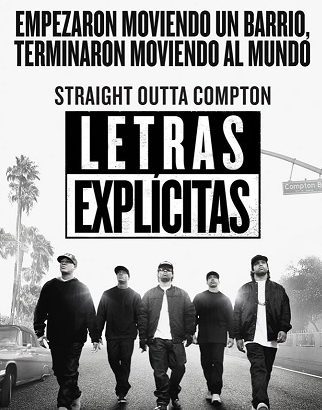 Posted: October 26, 2016
Comments: No comments
CINEMA FORUM ON AMERICAN CINEMA – ASPECTS TO CONSIDER WHILE VIEWING THE FILM FOR SUBSEQUENT DISCUSSION: STRAIGHT OUTTA COMPTON
Straight Outta Compton is a film directed by F. Gary Gary that tells the story of the mythical hip-hop group NWA The film, which was released in 2015, uses as its title the name of the group's first album that came out in 1988. Focusing on the founders of the group, Dr. Dre, Ice Cube, Easy-E, and their manager Jerry Heller, Straight Outta Compton represents the beginning, the successes, and the eventual dissolution of one of the most important groups in the history of hip-hop in the United States.
The film also highlights the socio-historical moment in which the famous group came out. By the late 80s and early 90s police abuses of power in Los Angeles had reached a record level. Famous cases during these years, such as that of Rodney King who was beaten almost to death by policemen after stopping him on the road, opened a national debate on the use of force by the police. In the lyrics of their song "F*ck the Police" NWA directly dealt with the tension and violence that existed at this time between the police and black youth in Los Angeles. The film shows how with this song, and several others that express their experiences in one of the poorest and most violent neighborhoods in the city, the group established the subgenre of gangsta rap and paved the way for other artists to come later, like Tupac and Snoop Dogg.
Critical reception for the film has been generally positive, and it was nominated for Best Original Screenplay at the 2015 Academy Awards. However, some of the group's collaborators, such as MC Ren, have complained about his absence from the film. Some critics have criticized the film's portrayal of women as demeaning, noting the omission of several accusations of gender-based violence against artists, especially Dr. Dre.
The filmmaker's decision to highlight the group's historical context and the tensions that existed between Compton's black community and the authorities as a source of artistic inspiration for NWA artists makes the film especially relevant at a time when movements like Black Lives Matter are taking up these same themes in the current context.
mary kate d.