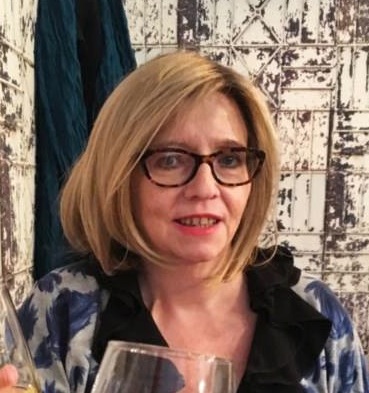 In Memory of Lee Buckley
By Anita Haas, Teacher, English Program
On April 14, 2017, our colleague and dear friend Lee Buckley passed away. Lee was born in New York City in 1955 and arrived in Spain in the early 1990s. Her long career as an English teacher included working at La Fundación de Ponce de León, The Cottage, and, for the last fifteen years, the International Institute. What stood out most about Lee, however, was not so much her professional trajectory of her as her of her unique and memorable personality of her – three major aspects of which were her intellect, generosity, and independence of her.
When I speak of Lee's intellect, I refer to her brilliant sense of humor and profound cultural knowledge. Her humor was quick, dry, witty, and dark. She strongly supported democracy while being fiercely opposed to religion, so dying the same day as Jesus as well on the anniversary of the declaration of the Second Spanish Republic, may well have been her last laugh at her! Many people who knew Lee would say she could come across at times as a know-it-all. The fact is, she usually did know it all. And when she didn't, she'd do the research to learn what she was missing. She relished cultural and intellectual challenges, like her de ella daily New York Times crossword puzzle, through which she could sharpen her knowledge of history, politics, the arts, etc. She was an avid reader, and her library of her reflected eclectic interests ranging anywhere from crime literature to poetry, theater, and science.
The first time she came to my house, she and my husband, both avid fans of jazz, played a game where he chose a track on a CD and she, eyes closed, named off the musicians. I think she may have only missed one!
Lee's generosity was a trait that encompassed not only money but also her time. She loved to treat people to drinks, dinner, and taxis. Yet, more importantly, she never hesitated to offer a helping hand to a friend, colleague, or student. Her intellect and generosity of her not only made her a wonderful friend and colleague, but also contributed to making her the great teacher that she was. Read always went the extra mile for her students by her.
Lee's fierce independence always left me in awe. She accepted help, though on her own terms. She refused to be anyone's burden or be pitied. Most importantly, however, she wanted to be free. Ella's freedom to her meant being in control of her life and making her own decisions, come what may. She was accountable for those decisions and took ownership of them, right up to the end.
Lee's life was a testament to the freedom she so desperately sought. In the last few years, various illnesses made her a prisoner in her own body. Now, Lee, you are finally free.