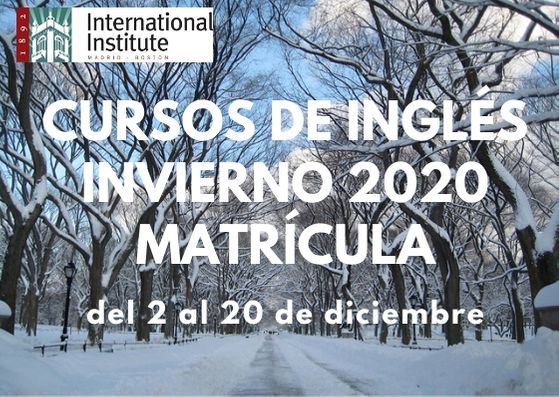 Posted: November 26, 2019
Comments: No comments
ENROLLMENT PERIOD OPEN FOR WINTER ENGLISH COURSES 2020
ENROLLMENT PERIOD OPEN
OF THE ENGLISH COURSES
WINTER 2020
2 20 to the December
Adult and children program
From the 2nd to the 20th of December, the registration period for the English courses at the International Institute is open.
Check the courses for children and adults and their schedules that we have organized for the winter term.
If you are a new student, make an appointment to take a free English test and we will advise you on the most appropriate course according to your level and objectives.
Get in contact with us:
English department
Office: 112
Schedule: Monday – Thursday from 10:00 a.m. to 14:30 p.m. and from 15:30 p.m. to 19:00 p.m.
Friday from 10:00 a.m. to 14:30 p.m. and from 15:30 p.m. to 18:00 p.m.
Saturdays from 10:00 a.m. to 14:00 p.m.
Contact phone number : 91 319 81 84
E-mail: engdept@iie.es