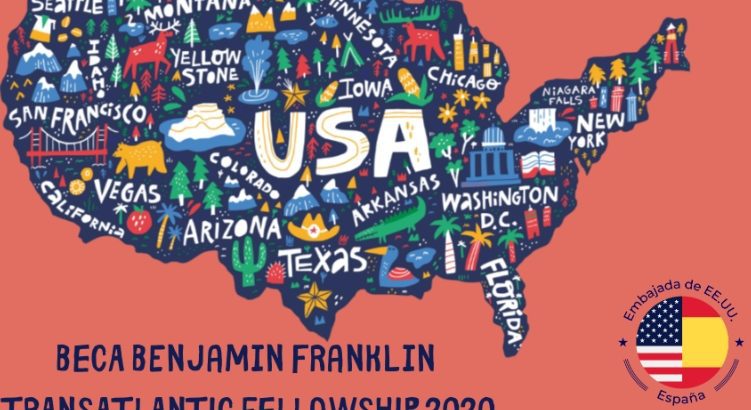 Posted: 20 December, 2019
Comments: No comments
Benjamin Franklin Summer Institute Scholarship Call 2020
Call for a scholarship to participate in
The Benajim Franklin Summer Institute 2020
in the United States for youth ages 16-18
The Embassy of the United States in Spain selects a Spanish, Andorran or resident student in Spain or Andorra to participate in the Benjamin Franklin Summer Institute, a program funded by the United States Department of State to promote relationships among younger generations of Europeans, Asians, and North Americans and raise awareness of the values ​​they share.
The selected student will participate in an intensive four-week program focused on global issues facing youth on both sides of the Atlantic and will address United States foreign policy priorities such as youth engagement, development of democratic values ​​and civil society, and economic prosperity.
The Institute will take place in the Purdue University in West Lafayette, Indiana, on an exact date yet to be determined between the months of June and July 2019, and will bring together 45 students from different countries in Europe and Central Asia with 10 American students.
The program will consist of a series of lectures, discussions and seminars, and a wide variety of practical workshops led by teachers and mentors. Courses and classroom activities will be complemented by community service activities, visits to places of interest, social and cultural activities, and stays with American families to deepen the participants' experience and knowledge of American society.
Endowment: All expenses (travel, accommodation, food, medical and accident insurance and visa) will be borne by the Department of State of the United States of America.
Requirements and selection criteria:
• Age: The selected student must be between 16 and 18 years old at the time the program begins in the United States. That is, having been born between June 22, 2002 and June 22, 2004.
• Academic excellence. Candidates must attach a certificate of studies from their educational center that reflects a minimum average grade of "Excellent" (7,5) in their academic record for the 2017/18 academic year.
• Excellent knowledge of English. Minimum mark of "Outstanding" (9 or 10) in your certificate of studies.
• Participation in volunteer activities and/or community service projects. Applications that do not provide collaboration certificates from the entities in which they have carried out said activities will not be accepted.
• Demonstrate strong leadership potential, interest in transatlantic relations and diplomacy, as well as learning about the United States.
• Applications from candidates who have previously participated in study trips to the United States will not be considered.
Submission of requests:
Only complete applications will be accepted, including:
1. Application Form completed directly on this web page including the attachments specified in the form.
2. A video of a maximum length of 1 minute in which applicants explain in English their interest in the program, what they think their participation would bring, and why they think they should be selected. The video must be uploaded to the channel YouTube as a "hidden" video and provide the link in the corresponding field of the application form.
3. Reference letters (PDF 120K). A model is attached that can be completed in either Spanish or English.
Deadline for receipt of applications: Sunday, February 2, 2020, at 24 p.m.
Scholarship Resolution: The resolution of the scholarship will be communicated to the selected candidate between the months of April and May 2019 and will be published on the website of the Embassy.