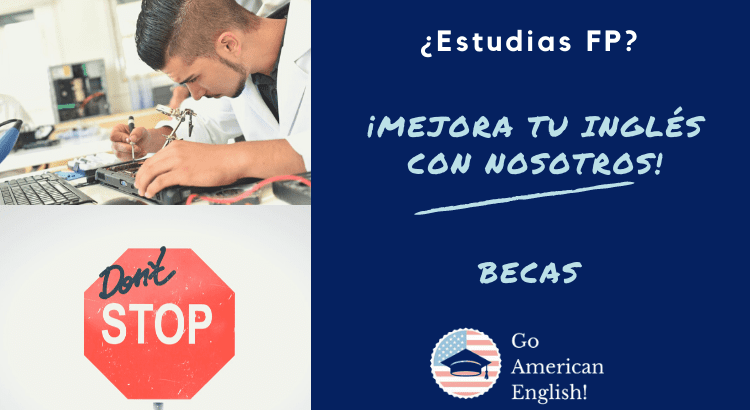 Posted: 5 February, 2021
Comments: No comments
Go! American English for Work – A US Embassy Pilot Program with IIE
In November 2020 the US Embassy in Spain launched a pilot program called Go! American English for Work to provide scholarships to Spanish teens and young adults to study English. We at the International Institute in Spain (IIE) are thrilled to be a partner with the Embassy in this exciting two-year project by providing the General English and TOEFL Preparation classes to individuals who might otherwise have lacked the financial resources to access high-quality language training, and therefore, opportunities to study abroad.
The curriculum was developed by IIE veteran professor mitch strom, who explained, "What we have tried to do is tailor-make a program to touch on all the bases: their English needs, specialty vocabulary related to Computer Technology, and then familiarizing them with the TOEFL exam. This is kind of a gateway to getting into American institutions of learning." As a result, Go! American English for Work will enable these students to accomplish two important goals. First, to achieve a B2 level of English and then a minimum TOEFL score of 73. The program's strategic length of two years means that the first group of students would finish when international travel returns to normal.
Strengthening cultural ties between Spain and the US
In addition to providing English language training, the pilot reflects the Embassy's long-term commitment to support students in Spain as they work to gain admission to American community colleges. The Cultural Attaché of the Embassy, Ana Duque-Higgins affirms that "this is a project in which we share intrinsically American values ​​and our best practices with Spanish society. Projects like this generate mutual understanding, intercultural learning, and unite American and Spanish societies." Furthermore, the teacher for the classes in Barcelona, Gregory Riley, reported, "This is an example of how we can make the world a better place by helping individuals in our communities. It is also proof that governments can and do serve the people, something that too often is easy to overlook."
At the moment, this initiative is particularly significant as limitations on travel are hindering current overseas student enrollment. Up to now, twenty Microcomputer Systems and Network Technician students from various training institutes located in Madrid and twenty more in Barcelona have received scholarships. There are plans to expand the pilot into other regions in Spain.
IIE teachers find working with highly motivated students satisfying
Additionally, Strom's IIE colleague, Christopher Whiters, has been leading a class in Madrid. When asked about how the course has been going, Withers stated, "My B1-level students have been going through a series of American firsts. Learning by doing, working only in English, being responsible for their own progress, interacting with a native speaker of English, and using 21st-century learning materials, methods, and technologies are a few of these milestones." Withers added, "If it weren't for the cooperation among the American Embassy, ​​IIE, and Spanish schools, I don't think these eager, appreciative and promising students would have such an opportunity to access American-made success."
Strom further expressed his satisfaction. "We are dealing with motivated youth, people with dreams and goals, people who have clear objectives about what they want in their futures. "We have the privilege of working with them and helping them, and this is very satisfying."