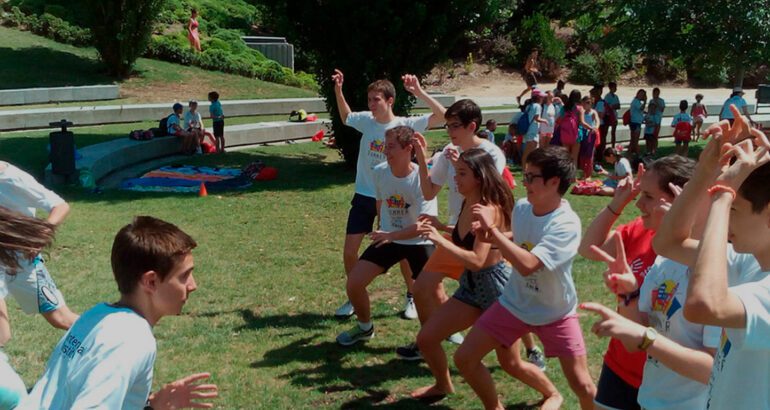 Seven surprising things that children learn in a summer camp in English
Seven surprising things that children learn in a summer camp in English
Summer vacations are a wonderful time for children, but at the same time stressful for parents: what to do with the children so they don't get bored? Who will to take care of them while we work?
One of the more common and at the same time fun ways to spend the summer are summer camps. In this article, we will detail XNUMX surprising things kids learn at summer camps.
1. Learning and playing during summer camps in English
Play is essential in education, not only because it is synonymous with fun but also because it is the natural environment in which children and adolescents experiment, develop their curiosity and take responsibility for their decisions, all in the safe and friendly environment provided by a Summer Camp.
2. Autonomy of judgment and action during the summer camp in English
By facilitating free and safe experimentation, children and adolescents develop autonomy of judgment, thus endowing them with a quality that will accompany them throughout their educational stage and is essential for life.
3. Team spirit during summer camps in English
Outdoor games, research projects, drama groups, all have one thing in common and that is collaboration. Encouraging teamwork and the ability to collaborate with different people who may not even know each other is something that is naturally practiced in the environment that a summer camp provides.
4. New and lasting friendships during the English summer camp
English summer camps are an effective way to expose children and youth to a new environment where they can easily make new friends while participating in team activities, whether they are outdoor games, theater performances, science experiments in the garden or research projects in the library.
5. A different culture… close to home!
Summer vacations can be used to offer children and teenagers the opportunity to get to know another culture. The option of traveling abroad is very common, but there are circumstances of all kinds that require having our children close to home. However, it is possible to reproduce an environment of permanent contact with another culture without having to leave your city. In order to do so, it is necessary to look for the camp that offers the best guarantees in terms of its educational model, since language teaching must include a rich cultural content at all levels and all ages. Here the characteristics of the teachers and the experience of the center in carrying out this type of camp play an essential role.
6. Preparation for study trips to the United States.
Currently, many parents are interested in their children opening themselves to the possibility of making stays in the United States or in another country. The summer camps in English favor that interest in another culture and the knowledge of other children or young people who have had that experience. Many times it is the teachers who, with their presence, stimulate the curiosity of children and young people to learn about other countries and cultures.
7. New hobbies
Summer should be a time to break away from the routine of the school year and become a time to open up to new people, experience new activities and discover new interests. The English language camp offers the possibility of immersing oneself in different subjects than the ones children and young people deal with during the school year or with different approaches.
What about pre-school siblings?
Some camps offer the option for parents to join groups that are formed among parents to discuss topics of interest to them as their children socialize with other children, often for the first time. This is where parents and their children can converse in English.
Faculty
If you opt for a summer camp in English, it is advisable that the team of teachers be made up of experienced professionals with the appropriate professional qualifications, that is to say, not simply monitors who speak English fairly well. It is important that the teachers are native English speakers with a broad knowledge of early childhood, primary or secondary education - as the case may be - and abreast of the latest pedagogical developments. It is also necessary that they maintain close contact with the culture of their country so that they are able to offer an up-to-date knowledge of the language and culture of their country.
Facilities
The camp takes place in the Chamberí neighborhood of Madrid in a splendid building completed in 1910 that is of historical interest and was designed for educational purposes. Hence its bright and airy classrooms, its spacious galleries and its garden hidden from the outside.
Tradition
The International Institute is an American non-profit institution that has been promoting educational exchange between Spain and the United States for 130 years. The conviction that education is a driving force that advances the individual and society is the guiding thread of this institution. Since its creation in San Sebastian in 1892, it has taught English to its students - at that time, only to women - and has continued to do so ever since.