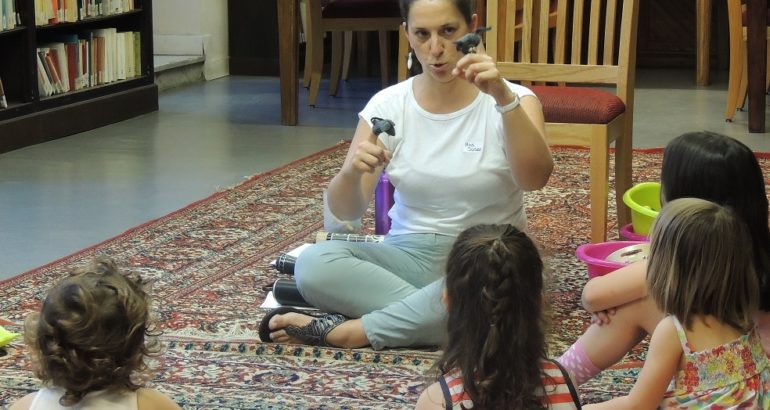 Posted: 22 July 2022
Comments: No comments
How to teach English to a child? Our advice from the IIE
The International Institute in Spain is delighted to welcome you in September. We have programs for children and adolescents, adults, exam preparation and certificates such as SAT, CAE and TOEFL. In addition, we offer the American Cultural Studies Program with courses ranging from American literature and art to science, technology and entrepreneurship).
We even have mini-camps for children and adolescents on non-school days in the Madrid school calendar.
Our first camp will take place on the 1st and 2nd of September and you can sign up here!.
We look forward to seeing our historic building filled with English and cultural learners of all ages. In addition to a 112-year history, the building offers its students an extensive library, a pleasant cafeteria and a beautiful garden.

Fall Quarter Schedule for English Classes
All teachers at the International Institute are native speakers of North American English., highly qualified experienced educators who combine the best practices in pedagogy with experiential methodologies. They are expert teachers who make learning the language and culture enjoyable.
Here You can check our fall quarter schedule. We also offer individual classes (one-to-one). If this calendar or times do not suit your needs, please contact us and we will do our best to meet your needs. You are welcome to do so at any time engdept@iie.es.Thank you.
New Director of the American Language and Culture Program
This is a very exciting moment for the International Institute. We just appointed a new Director of the American Language and Culture Program, Suzie Byers, who studied with the program at Wesleyan University here at Calle Miguel Ángel, 8 in the 90s. Suzie has great esteem and affection for the International Institute for its promotion of linguistic and cultural exchange, as well as the equality of girls and women.
Suzie brings 27 years of experience to her work as Director of the American Language and Culture Program. Before joining the Institute, she was Director of Madrid Montessori. Suzie previously taught graduate students in the program Management, Leadership, and Decision Sciences from Harvard University ( Kennedy School of Government). She is excited to bring innovation and growth to the International Institute now in the Institute's 131st year of existence and beyond. Feel free to contact Suzie via LinkedIn here!.

How to teach English to a child?
"How to teach a child to learn English?" This is a question that families ask us very often. Our responses often lead parents to enroll their children in our courses again and again.
We believe that there are three main elements to successfully learning English:
Native teachers with extensive experience in learning multiple languages. All our teachers have these qualifications.
Experienced educators who combine best practices in pedagogy with experiential methodologies. This means that our teachers not only practice excellence in content and instruction, but also know improvisation methods appropriate to the needs of each student as they build their own learning process.
A balance between challenging and supporting to get each student right where they are in learning English. We make English enjoyable for everyone to learn, while ensuring that students meet or exceed the high standards of each course we teach.
Here is a sampling of the many and varied ways children learn English at the International Institute:
During 'circle time' the whole class comes together to sing songs, read books, do finger plays and play games in English.
Some of these English activities are repeated to reinforce English vocabulary and increase children's confidence. There are new elements in each class and they change according to the themes, such as colors, numbers, animals, clothes, food, opposites and parts of the body. These changing elements give stronger English learners the opportunity to demonstrate their skills and inspire their peers. Children enjoy stories, songs and games from the United States and Canada, as well as English versions of Spanish stories, songs and games. Through the use of various strategies throughout the class, the little ones are 'revitalized' through music, movement and images. Older children use their fluency in receptive English to practice expressive English and their emerging literacy skills individually and collectively.
On the other hand, some examples that you can also practice at home:
Sing songs in English while walking around a circle pretending to form a train or a snake
Jump slowly and then quickly while counting from one to twenty in English
Learn parts of the body by playing "Simon says"
Read aloud together picture books in English
Imitate animals that appear in children's songs
Use playful objects such as a parachute to repeat English vocabulary
Play traditional American and/or Spanish recreational games translated into English
Practice yoga while learning the English names of each posture.
The testimonials of the families about their experiences at the International Institute make us proud and inspire our work of teaching and learning English. We hope that this example encourages you to join our English Programs. We look forward to learning more about you and your needs in the field of English!
"The best English school in all of Madrid and perhaps in all of Spain. They give you a level test (oral and written) to see which class they give you, one of the teachers already does it for you, and they are all native speakers!!! Many of them do not know Spanish. It has a cafeteria, a huge library with books, magazines, newspapers, DVDs and everything imaginable, a computer room and an auditorium where book launches and other events are held. At the end of each term, the institute prepares an agape for teachers and students, either in the cafeteria, or in the building's courtyard, which is a green paradise in the middle of Madrid."

Frequently asked questions related to learning English for children
When should a child start learning English?
A child should start learning English as soon as possible.
Pediatricians and child psychologists encourage parents and family members to speak to their children in their native language. If that language is not English, it is best to look for native English speaking educators and caregivers to teach and care for your children.
What do you teach in English to a 3 year old?
There are several things you can do to teach your 3-year-old English:
Sing songs
Read books
learn nursery rhymes
finger puppet
To play
Attend performances in English
Surround yourself with native English speakers
How long does it take for a child to learn a language?
The amount of time a child needs to learn English depends on many factors.. For example, if the child's teacher's native language is English and he is a highly experienced educator, he is likely to require less time. Of course, the frequency and duration of exposure to English matter, so children who attend schools where English is the language of instruction tend to learn faster. Listening to music and singing in English, attending performances in English, watching movies in English, doing group activities in English (e.g., playing on the patio and board games), and spending time in English-speaking environments help with language acquisition, which favors later literacy skills.
What is the best age to learn English?
Although it is advisable "the sooner the better", any age is good to start learning english. Studies suggest that children who learn another language before learning to read and write in their native language are better able to speak the new language, and without an accent. That said, it's never too late to start learning English!