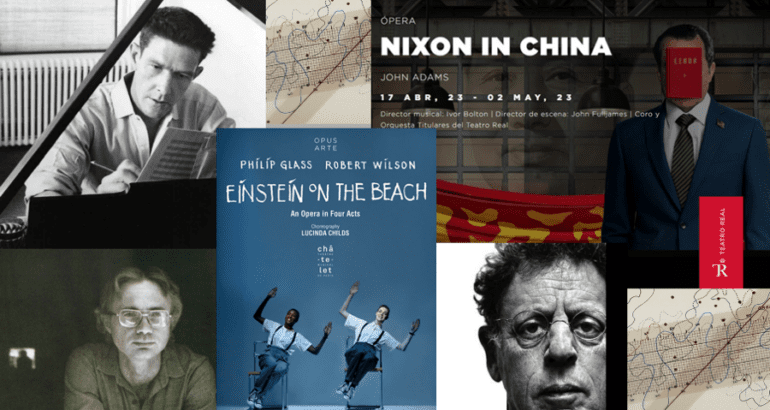 Posted: 21 December, 2022
Comments: No comments
Reiteration of diversity: Minimal music and American opera of the XNUMXth century
Reiteration of diversity: Minimal music and American opera of the XNUMXth century
monographic course
March 21 and 28 – April 11, 2023
Professor Gabriel Menendez Torrellas
Introduction
Minimal music can be considered the first genuinely American trend in classical music of the 1960th century, a musical reaction to the post-serial crisis existing in Europe at that time and to the irruption of the indefinable figure of John Cage: minimal music postulated a new avant-garde concept to through a drastic simplification of the internal structures of music and its references to the outside world. As a musical trend, it began to develop imperceptibly from the late sixties, in the context of Postmodernity, to later encompass a broad domain of musical composition and become one of the most significant currents of the postwar period; It evolved in parallel to Minimal Art in the plastic arts, a variant of abstract art that spread internationally, with a great presence from XNUMX on in the United States and Great Britain.
Minimal music works largely through sections of simple diatonic scales, used as rhythmic-melodic patterns, which cause a hypnotic and meditative effect through endless repetition and minimal variations. The reduction of the sound material and its permanent variation raises a questioning of the usual parameters of music and invites a less structured listening and with a different awareness of nuances.
In this brief three-session course, we will permanently use specific audiovisual examples that allow us to listen to and visualize the most characteristic features of this musical movement, as well as its specific crystallization in two emblematic operas by two of its most outstanding composers: Philip Glass and John Adams.
Program, dates and schedule of the course
Hours: 19.00:21.00 p.m. to XNUMX:XNUMX p.m.
1st Session — Introduction to North American Minimal Music
Tuesday, March 21, 2023 from 19:00 p.m. to 21:00 p.m.
An exhibition of the characteristic features of this movement from its beginnings through musical examples that allow us to define the new way of listening that its works inspire. In minimal music, European and non-European modes of musical creation and interpretation converge, a very different view of musical parameters and a game with the expectation that can take us back to John Cage as well as certain models of the African oral tradition.
Session 2 —Philip Glass and Robert Wison, Einstein on the Beach
Tuesday, March 28, 2023 from 19:00 p.m. to 21:00 p.m.
This opera, premiered in Avignon in 1976, was the first large-scale composition within the "minimal" group of composers. Both Philip Glass's music and Robert Wilson's setting were a radical departure from traditional drama; the fabric of words and meanings was replaced by spaces and images, gestures and behaviors, dreams, visions and hallucinations, often in a movement that seemed to throb in time.
Session 3 — John Adams, Nixon in China
Tuesday, April 11, 2023 from 19:00 p.m. to 21:00 p.m.
Premiering in Houston in 1987, Nixon in China was the first collaborative effort between stage director Peter Sellars, composer John Adams, and writer Alice Goodman. For their opera, they took a theme from recent American history, which for those attending the premiere represented an event witnessed with their own eyes. Nixon in China's music integrates the rhythm of the American language into song, conceives of music from various musical dimensions, and uses broad melodic arcs and rhythmic syncopations borrowed from entertainment music. It is characterized by a permanent rhythmic pulse of the orchestra, above which rise singable melodic lines reminiscent of Benjamin Britten and Richard Strauss.
Practical data
This course is taught:
 On Tuesdays, March 21 and 28, and April 11, 2023, from 19.00:21.00 p.m. to XNUMX:XNUMX p.m.
 International Institute of Madrid. C/ Miguel Angel, 8.
 Auditorium.
 Metros: Rubén Darío (Line 5) and Gregorio Marañón (Lines 7 and 10).
 Price: €30 (3 sessions).
PROFESSOR GABRIEL MENENDEZ
Gabriel Menéndez is a Doctor of Aesthetics and Philosophy. He holds the Magister Artium in Musicology and Art History from the Albert-Ludwig University of Freiburg im Breisgau (Germany), in whose Faculty of Musicology he was a professor. Since 2013 he has directed the Opera and Musicology Seminar at the CEU San Pablo University in Madrid, where he is a professor of Opera History. Since 2008, he has been regularly teaching opera courses and other monographic courses at the Teatro Real in Madrid.
Since 2013, he has organized various international conferences on opera and composers Richard Wagner, WA Mozart, Giuseppe Verdi, Giacomo Puccini and GF Handel at the CEU San Pablo university. Since 2009 he has organized seminars on various musical topics at the Instituto Internacional de Madrid. He has published in Akal various books and translations from English, German and French of important works of a musicological and aesthetic nature. He is co-editor of the series "Albores Música" at CEU San Pablo University.
Since 2014 he has collaborated as a speaker with the Mundo Amigo agency, with which he has organized numerous musical-cultural trips, whose main theme consists of designing musical itineraries through the cities that link the musicians and their works with the architectural monuments and the urban coordinates of the city. city. From this point of view, he has visited the following cities: Vienna, Dresden, Leipzig, Prague, Venice, Rome, Milan, Paris, Salzburg, Berlin, Munich, London, Palermo, Naples, Budapest, Parma, Mantua, Cremona, Bruges, Florence, Warsaw , Hamburg, Amsterdam, Vicenza, Thuringia, Bayreuth and Nuremberg.
Publications by Gabriel Menendez
History of the string quartet (Akal, 2019).
Opera history (Akal, 2013, 2022).
Opera as sung theater. From the script to the musical drama (CEU San Pablo, 2015).
Composing Tristán and Isolda (CEU San Pablo, 2016).
Don Giovanni. Sensual myth and sacred aura (CEU San Pablo, 2017).
Trilogy of privacy: Rigoletto, Il Trovatore, La Traviata (CEU San Pablo, 2018).
Giacomo Puccini and the omnipresent dramaturgy (CEU San Pablo, 2020).
Text by Gabriel Menendez