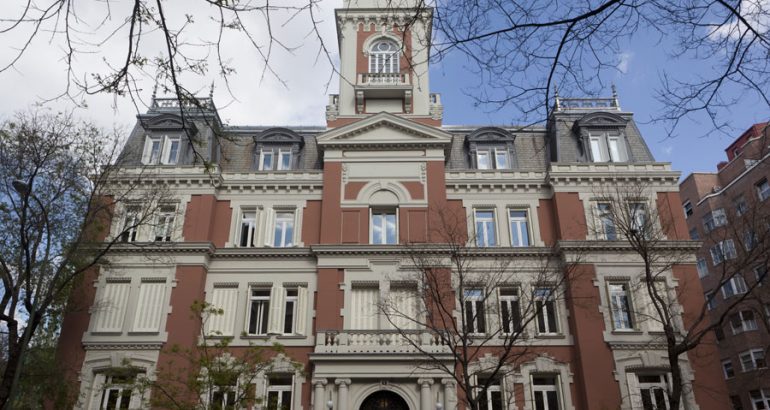 Posted: 15 noviembre, 2020
Comments: No hay comentarios
International Institute Foundation in Spain Newsletter – Notes & News, November 2020
International Institute Foundation in Spain Newsletter – Notes & News, November 2020 [ acceda aquí al texto completo Notes & News November 2020]
All of us at the International Institute in Spain, whether in Madrid or Boston, hope that you, your family, and friends are well and safe during the ongoing worldwide pandemic that has disrupted all our lives and the activities of our International Institute community. We want you to know that in spite of the obligatory months-long closing of our Miguel Ángel, 8, building, the International Institute has continued to work to fulfill its mission of educational and cultural exchange, through virtual classes and activities. Our building is now open again, and a few in-person classes have resumed for both adults and young learners, but we are also continuing to build our virtual offerings, which have expanded our community to include Spaniards outside Madrid as well as Americans, who are leading or joining in American Space Madrid activities from the U.S.
We have a creative new team in Madrid to help us work through this difficult time: Benjamin Smith, head of the Adult English Program; Natalia Kolodny, head of the Young Learners English Program; and Hilary Misle, director of American Space Madrid. Each of them brings a wealth of experience and innovative thinking to the Institute. Andrew Bennett, head of American Cultural Studies, ensures that our ACS offerings are original and stimulating. Because of all their work, the International Institute continues to offer dynamic activities and exciting courses, both in-person and virtual, to the public in Spain.
We are grateful to Executive Director Pilar Piñón and to our facilities manager Juan González for their efforts to keep the Institute operation going through this complex period.
The activities and educational opportunities available through the International Institute are detailed elsewhere in this issue of Notes & News. We invite you to consult the Institute's webpage and its Agenda at www.iie.es for a continuously-updated listing of what's available for members of our growing community.
It is important, though, that all those who care about the Institute know that the pandemic has created extreme financial difficulties for our historic institution. Without the presence of American university study abroad classes and the usual range of activities and with low enrollments in our courses, the Institute's finances are suffering. As the Covid-19 crisis continues, the prospect of positive change and a return to the usual level of vitality seems more distant than ever, and thus, the prospect of financial stability remains far-off.
For that reason, we respectfully request that members of our community, in Spain and the U.S., contribute to our newly established COVID Challenge Fund, to sustain our historic institution, which has survived not only the great influenza pandemic of 1918-19, but war and dictatorship. Since 1892, the International Institute has created a nexus for exchange of ideas about education and culture between the U.S. and Spain, with a special emphasis on the advancement of women and girls. From the outset, the Institute's efforts were supported by the philanthropy of generous donors, both individuals and institutions. Many of those who gave were young university women, whose small gifts were just as important to the Institute's growth and survival as larger contributions. Checks made out to the International Institute COVID Challenge Fund may be sent to: International Institute in Spain, c/o Michael Diorio, 11 Calvin Drive, Milford, MA 01757. In Spain, COVID Challenge Fund donations should be sent to Pilar Piñón, Instituto Internacional, c/ Miguel Ángel 8, Madrid 28010. We encourage you to make whatever contribution you are able to.
Given the Institute's needs, it is an honor to be able to announce another generous gift from R. Lane Kaufmann, professor emeritus of Hispanic Studies at Rice University. Prof. Kauffmann and the Kauffmann Family Foundation have been loyal contributors to the Institute. Prof. Kauffmann was chair of the Rice Department of Hispanic Studies from 1996-2002. We are grateful to Prof. Kauffmann's gifts to the International Institute Library. At Prof. Kauffmann's request, his latest contribution will be commemorated with a plaque in honor of his mentor and friend, the late Prof. Edmund King, a distinguished scholar of Spanish Literature at Princeton University from 1946 to 1982 and President of the International Institute in Spain from 1975 to 1982.
The International Institute needs your support and participation in order to survive the Covid-19 crisis. Like many non-profit organizations, the Institute faces extraordinary challenges during these complicated times. We at the International Institute are here for our community, to sustain you with stimulating learning opportunities; events in which you can discuss literature, art, film, and social issues with people in Spain and the U.S.; activities for children and teens, such as songwriting and even learning to play the ukulele; a Halloween cycle on the "Season of the Witch"; and help preparing for study in the U.S. or working in English-speaking environments. We support you, and respectfully ask that you help us, too.
Sincerely,
Margery Resnick, President