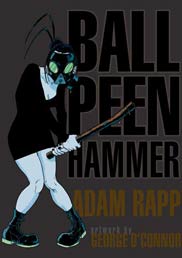 Posted: 31 January 2011
Comments: No comments
The collection in use
"Ball peen hammer" by Adam Rapp & George O´Connor with color by Hilary Sycamore
"The world is dying. After most of the city succumbed to the plague, Welton's staying inside — permanently. But hiding in his claustrophobic basement room from him — the only place he knows is safe — exacts a gross price, and he becomes part of a collective that's killing children.
Extracted from the back cover.
See also:
http://www.graphicnovelreporter.com/content/art-ball-peen-hammer-talking-george-oconnor-interview
http://en.wikipedia.org/wiki/George_O'Connor_(author/illustrator)
http://en.wikipedia.org/wiki/Adam_Rapp
The selected titles are a sample of the recently loaned International Institute Library materials.
If you are interested in seeing or reading this recommendation, you can check its availability in the IIE library catalog.
Ball peen hammer / Adam Rapp and George O´Connor ; color by Hilary Sycamore. — 1st. ed. — New York: First second, 2009. — 134 p. : ill. cabbage. ; 22cm
ISBN 978-1-59643-300-7
PN 6727 .R36 B35 2009
R. 97358