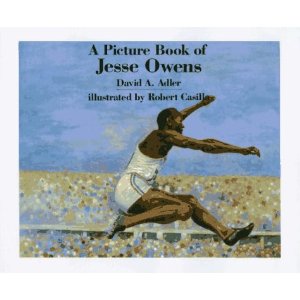 Posted: 30 July 2012
Comments: No comments
The collection in use
"A picture book of Jesse Owens" by David A. Adler & illustrated by Robert Castilla
"Jesse Owens started life as a poor sharecropper's son and through hard work, skill, and determination, grew up to become an award-winning sprinter and champion of the long jump. During the 1936 Olympics in Berlin, he won four gold medals, then returned to racial prejudice in the US"
Taken from Amazon.
See also:
http://www.teachingbooks.net/tb.cgi?sid=55
http://en.wikipedia.org/wiki/David_A._Adler
http://en.wikipedia.org/wiki/Jesse_Owens
The selected titles are a sample of the recently loaned International Institute Library materials.
If you are interested in seeing or reading this recommendation, you can check its availability in the IIE library catalog.
(A) picture book of Jesse Owens / David A. Adler ; Illustrated by Robert Castilla. — New York [etc.] : Scholastic, 1993.
[30] : ill., col ; 20cm
ISBN-0 590-49439-2
GV 697 .O9 A35 1993
R. 92264000