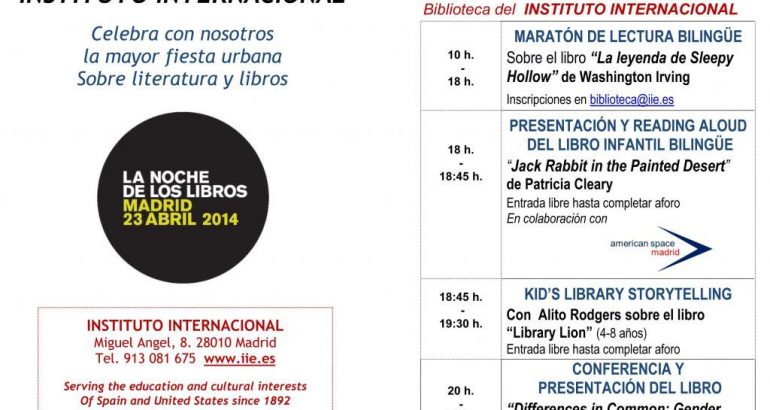 Posted: 8 April 2014
Comments: No comments
Program of activities for the celebration of Book Day
On Wednesday, April 23, to celebrate International Book Day, from the Library of the International Institute we will organize different activities within the program of The Night of the Books of the Community of Madrid.
In the first place between 10 and 18 h. (by appointment) There will be a bilingual reading marathon in Spanish and English using "The Legend of Sleepy Hollow" by Washington Irving. Like other times, the objective will be to read the work together, in fragments and in the preferred language (Spanish or English) to try to finish reading both versions and record it to leave a testimony of the activity. Those interested in participating should contact library@iie.es.
In addition, that day two books will be presented in the library:
At 18:XNUMX p.m., the bilingual children's book "Jack Rabbit in the Painted Desert" by Patricia Cleary, which will be read aloud in Spanish and English.
At 20 p.m. There will be a conference presentation of the book "Differences in Common: Gender, Vulnerability and Community" by Joana Sabadell-Nieto and Marta Segarra from the prestigious Rodopi publishing house (although the book is in English, the presentation will be in Spanish).
As is traditional, there will also be a children's storytelling in English for children from 4 to 8 years old around the book "Library Lion" with Alito Rodgers as "storyteller" at 18:45 p.m.
Admission is free for these three activities until full capacity is reached.
More details on all programming of The Night of the Books on the internet.