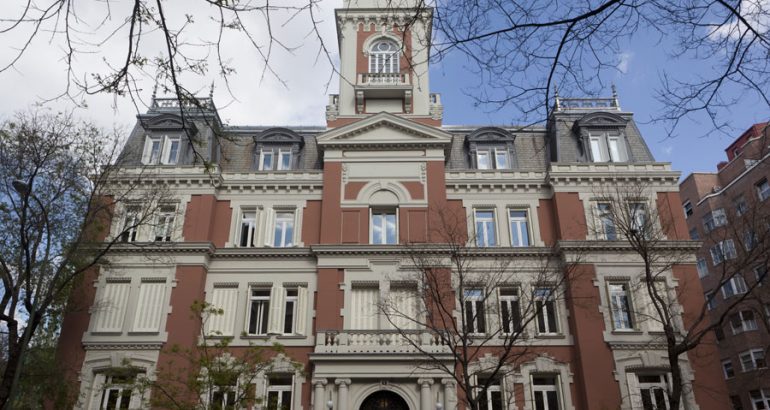 Notes & News, June 2018
Access the Newsletter of the International Institute (pdf), [CLICK : Notes & News, June 2018]
Dear Members of the International Institute Community,
The International Institute has dedicated itself to sharing innovative American educational practices with Spanish educators since its earliest days. Alice Gordon Gulick's first programs to train Spanish girls for college entrance exams must have required great imagination, confidence, and determination to design an effective pedagogy within a wholly new context.
While hardly comparable to those historic initial forays into Spain's educational system, an unexpected opportunity earlier this year enabled me to fashion a 21st Century pedagogical seminar that was new for Spain–and for me. One goal of the Institute's agreement with the Carlos III University of Madrid was the exchange of American university pedagogical know-how with our Spanish colleagues. How that knowledge was to be shared remained unspecified. When I arrived in Madrid last winter, Andrew Bennett and Nicole Rosow were fashioning a response to the UC3M's request for a seminar on "Innovative Teaching for the College Classroom in English." The University administration had observed that while 50 percent of the courses offered at the Carlos III are taught in English, many professors who were not fluent were relying—sometimes exclusively—on reading lectures to students, who sometimes struggled to understand. Our task was to design and share interactive teaching strategies that would actively engage students in learning, independently of their professors' English levels. With Andrew and Nicoles's work as a starting point, and Jennifer Bird as an assistant teacher, we developed a course and created a website that would serve as a resource for this class and future ones. The site includes my own class materials on topics like working in groups; evaluating group projects; using hands-on activities to enhance learning; making creative use of the web; and designing and evaluating oral presentations. Out of more than 100 tenured faculty applicants, 15 were selected by the UC3M vice-rector to participate in the class. The challenges were intriguing: these professors came from such nonsense fields as law, business, and journalism. Although seasoned academics, only a few had been seen interactive strategies used in a classroom, and most felt bound to "impart information" in class, even if students might have more easily acquired the material by reading a textbook.
The new course was fun. Video of masterful Harvard Law School lectures showed that an effective teacher can hold the attention of over 250 students, even while managing to encourage that large group to debate actively in class. Chimimanda Adiche's TED talk "The Dangers of a Single Story," along with her short story "Quality Sweets," revealed how narrative, fiction, and music could enhance students' understanding, weaving literary criticism, colonial studies, history, and social class issues into one module. The UC3M faculty "students" analyzed and criticized lectures in economics and business given by some of my MIT colleagues in order to turn a critical eye on their own teaching. Co-teacher Jennifer Bird and I emphasized American subject matter ranging from Thomas Eakins' painting "The Gross Clinic," to US Supreme Court opinions, to contemporary business ethics cases while demonstrating how university teachers can present more student-centered, interactive classes not dependent on the reading format.
The faculty were engaged, professional, and committed teachers. During the workshop sessions, they sharpened their skills in creating a student-centered, activity-based classroom to improve student engagement and learning. Each class modeled the techniques I was sharing, and the faculty participants became active learners. International Institute Board member Tom Hotaling took part in one class and was a great help in stimulating group discussions. By the end of the seminar, the professors had established rapport with one another and acquired a repertoire of strategies that should infuse greater life into their classes. Following the course, Jennifer Bird offered one-on-one observation and coaching sessions for the participating UC3M professors, helping them implement the approaches we presented. We did, of course, encounter push-back—"This could never be done here." "My course administrator would not allow it." "Law requires memorization." But I think we convinced the group that it is more fun to teach when a class is exciting, interdisciplinary, interactive, and experimental. Meeting with the vice-rector after the course concluded, I presented some of the challenges his faculty face in trying to introduce innovative, multi-disciplinary approaches, and tried to support fellow academics in struggles that are specific to their situation.
Our work with the Universidad Carlos III de Madrid to bring American classroom practices to Spain at the college level complements the International Institute's ongoing efforts with primary and secondary school teachers of the Community of Madrid. Such projects carry on the tradition of Alice Gordon Gulick and strive to be true to the Institute's heritage in this anniversary year.
Margaret Resnick, President