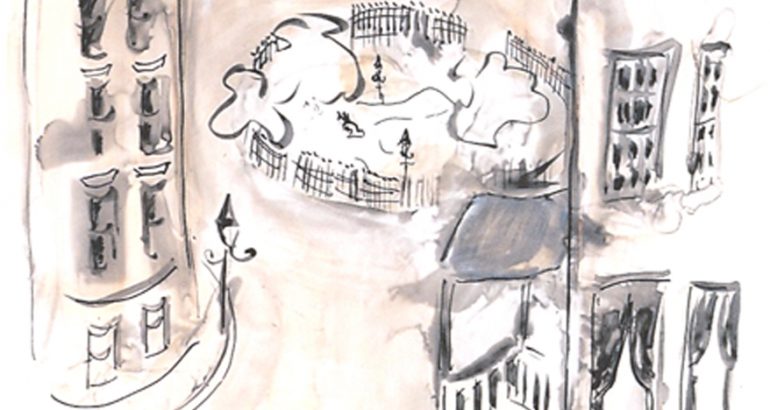 Posted: 17 junio, 2014
Comments: No hay comentarios
A new connection between Madrid and Boston
This past winter when I arrived at the Institute from my hometown of Brookline, Massachusetts, a suburb of Boston, I felt contrasting emotions of great excitement and of others that bordered on homesickness. It was, then, a welcome surprise when Institute Executive Committee member (and fellow Brookline resident) Ben DeWinter showed me a book he had carried to the Institute from home. His friend Kate Sullivan had recently published this children's book, which is called On Linden Square. Both illustrated and written by Sullivan, the story celebrates the characters who inhabit the small Brookline neighborhood of Linden Square and the bonds that join them into a community. I realized that Linden Square is just a five-minute walk from my family's home, and the book's heartwarming story celebrates the spirit of cooperation among the residents of this diverse neighborhood after a heavy snowstorm. This beautiful printed reminder of home was comforting. It also pointed up the reality that I was happy to be in Madrid, a city so rarely snowy, during a winter when the Boston area was repeatedly buried by snowstorms.
Ben suggested that I bring the book to the Young Learners 3 class that I teach so that my students could read the story and also participate in the activity proposed in the book. The author asks readers to write and/or draw something about their own neighborhoods and to send what they have done to the address listed as that of the main character, Stella Mae Culpepper. Sullivan promised that Stella Mae would send a postcard in return. After reading On Linden Square, my students drew colorful depictions of their Madrid neighborhoods, complete with short descriptions in English. I sent all their drawings to Stella Mae, and, lo and behold, my students and their artwork appeared on Sullivan's blog! (http://www.onlindensquare.com/1/post/2014/05/instituto-internacional-madrid.html)
Thanks to the author's generous response, we created another connection between Madrid and Boston. My students were thrilled to see their work online, and several weeks later, Stella Mae Culpepper sent us each beautiful copies of Sullivan's drawing of Linden Square, complete with a handwritten, personalized note (http://iieyounglearners.wordpress.com/category/young-learners-3/).
This exchange was meaningful for many different reasons: my students were happy to have been answered by a published author and to have seen their work published online. The exchange reminded me of my childhood before email became commonplace, a time when, at my students' age, I wrote letters by hand to penpals halfway around the globe.
Home is a complicated, constantly evolving concept that continues to change for me as I enjoy my time in Madrid. I am thankful to my students and to Kate Sullivan for reaching out to each other across the Atlantic. In sharing their pictures and notes, they have proven that sometimes our notions of home can be as simple and sweet as the things we love in our own neighborhoods.
Author: Jean Choi, Young Learners teacher and American Space Madrid Director.