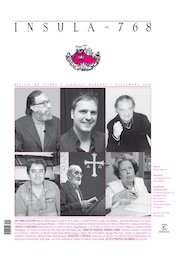 Posted: 10 February, 2011
Comments: No comments
New number received from: Insula (nº768. December 2010)
Summary of this issue:
*Miguel Hernández: The impact of his trip to the Soviet Union. Juan Cano Ballesta
*Antonio Machado at the Ángel González in Collioure. Jose Jurado Morales
*Turned on Ave Eva. The ternary writing of Gonzalo de Berceo (Hymns II, c.2). Juan Garcia Unique
* Exemplary literary criticism. Angel Basanta
*JE Zúñiga against the light of symbolist aesthetics. Antonio Garrido Dominguez
*The theater of the Golden Age. María del Valle Ojeda Calvo
*Stories, shelves and songs in the poetry and narrative of Kirmen Uribe. Iratxe Martin Esparza
*Bilbao-New York-Bilbao. Santiago Perez Isasi
*Between assimilation and difference. Paul Kortazar
*Dublin. Cristina Onoro Otero
*The clock continues to run. Jordi Amat
* The warrior ethic of Torres Villarroel. Anna Caballe
* In their own words. Julia Uceda
Previous summaries in Dialnet.
See also magazine website.
See numbers available in the Library of the International Institute