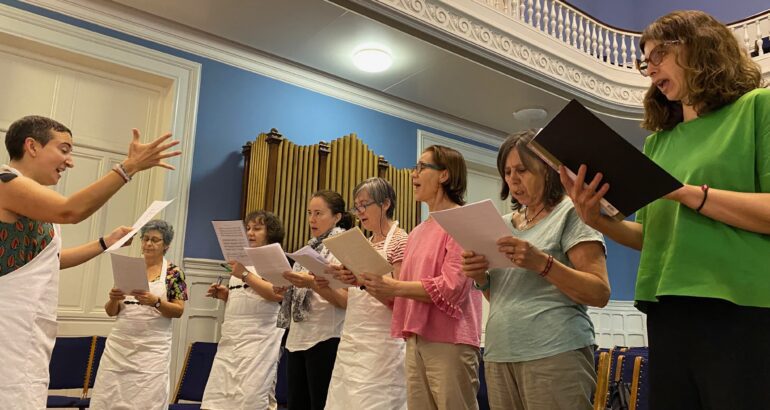 Posted: September 12, 2023
By: ACS
Comments: No comments
Concerts at the International Institute – American Minimalism… and more!
From January to June the International Institute focused on minimalist music and American culture of the late XNUMXth century. On the occasion of the presentation at the Royal Nixon Theater in China of John Adams in the month of April, the Institute has programmed courses, talks, concerts and events around the themes of both contemporary minimalist composers and the legacy of Richard Nixon and his impact on American culture.
Liquid Soundscapes: A Concert of American Minimalist Music – May 27
We inaugurated the season on January 13 with a spectacular concert entitled Liquid Soundscapes: A concert of minimalist American music. The concert brought together the flutist Anna Buczkowska, the pianist Dubravka Vukalovic and the four members of BOOST Drum Set to perform various works by American minimalist composers.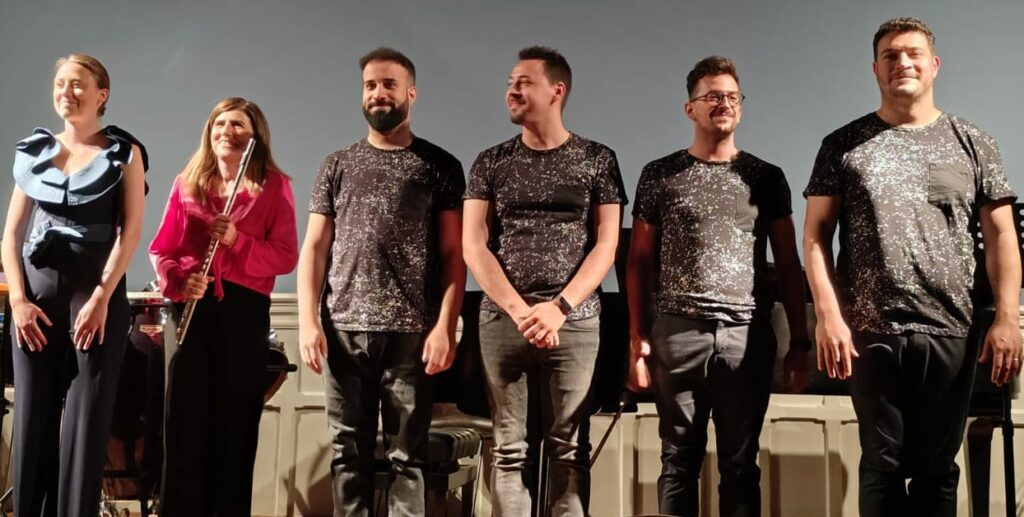 They returned on Saturday, May 27, with a modified program from the first concert, performing works by John Cage, Steve Reich, John Adams, Philip Glass and Paul Lanky. In homage to the Teatro Real's 'Nixon in China', the concert opened with Dubravka performing 'China Gates' by John Adams. Dubravka and Anna they interpreted the hypnotic and sublime 'Taoist Sacred Dance' by Philip Glass together. And this time the BOOST percussionists have introduced another movement from Paul Lanky's 'Threads' to the program, to give the audience a taste of the diversity of the composition consisting of several movements.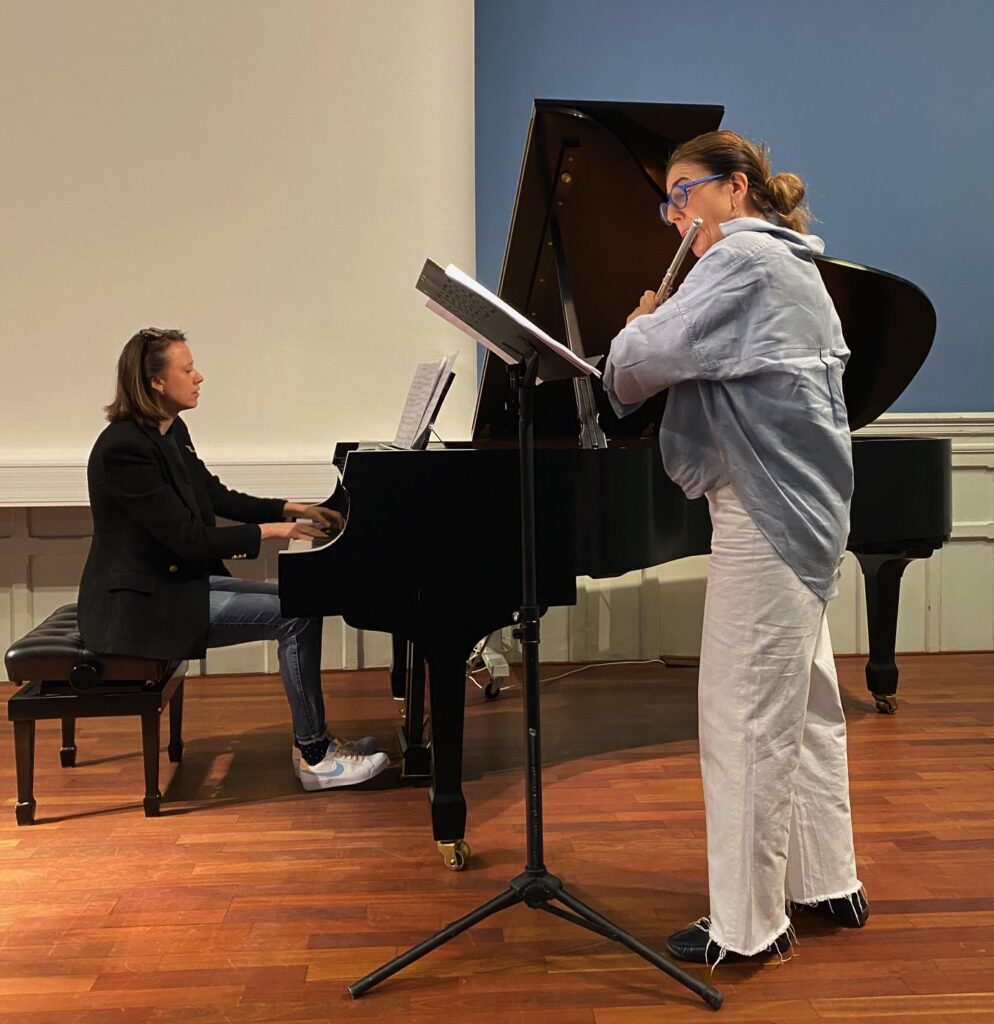 Dubravka Vukalovic and Anna Buczkowska rehearsing 'Taoist Sacred Dance' by Philip Glass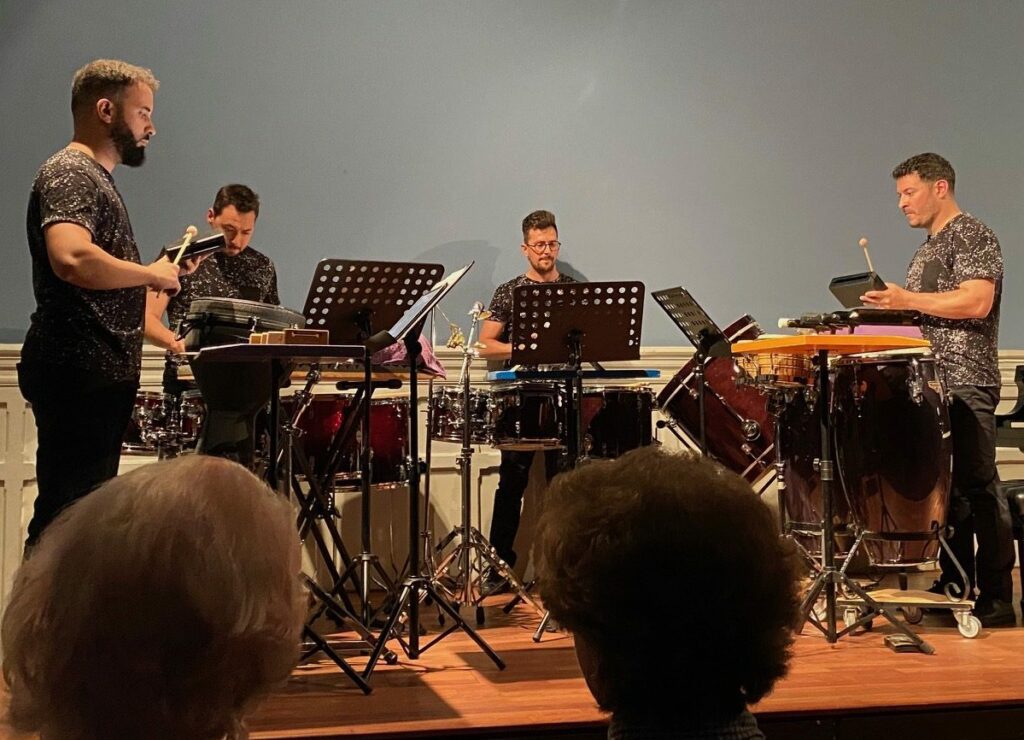 BOOST Percussion Group playing 'Music for Pieces of Wood' by Steve Reich
To read more about minimalist music and the concept of 'Liquid Soundscapes', we have a blog post dedicated to this specific concert.
---
"to be held for a long time": tribute concert to North American minimalism – April 17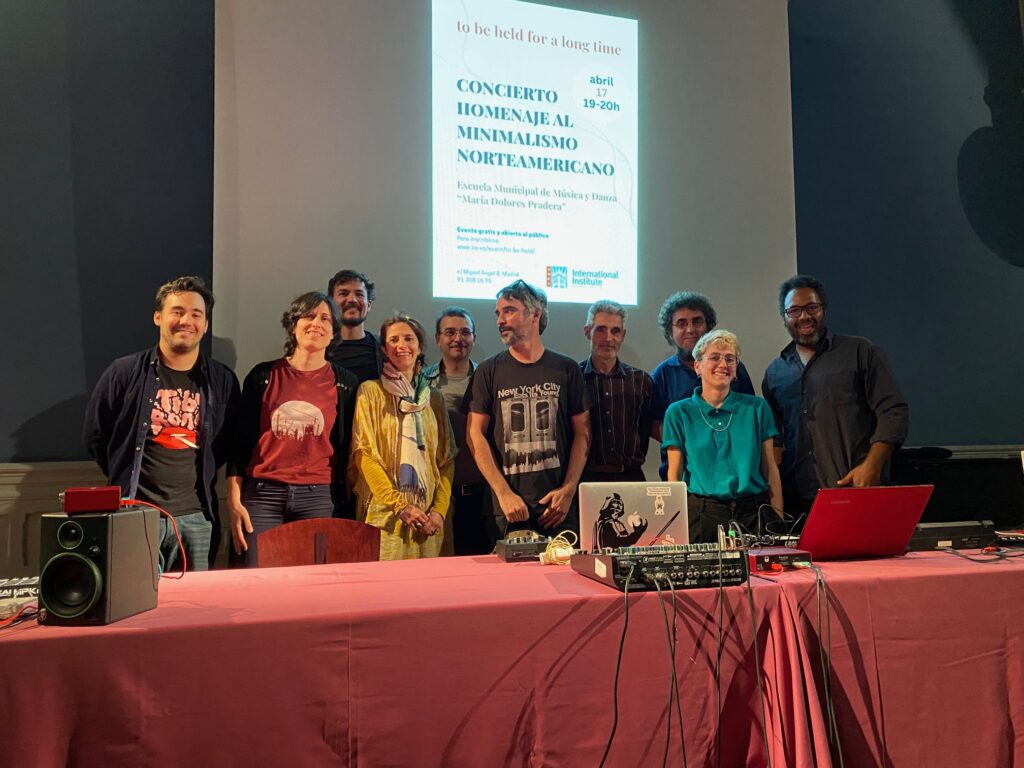 Students of the 'María Dolores Pradera' Municipal School of Music and Dance.
In April we had a concert in collaboration with the Municipal School of Music and Dance 'María Dolores Pradera' in which his instrumental groups, piano repertoire and computer electronic pieces participated.
Musical minimalism is understood as a very varied set of experiments in musical composition carried out internationally, of which the efforts developed by a group of North American composers are very relevant, among whom are: La Monte Young, Terry Riley, Philip Glass or Steve Reich. For this tribute to North American minimalism, the EMMD students 'María Dolores Pradera has prepared some well-known pieces of this style among those that do not require a very advanced technique of musical interpretation, always valuing attentive listening and creative work.
---
Maximal Voices: tribute to American minimalism – June 19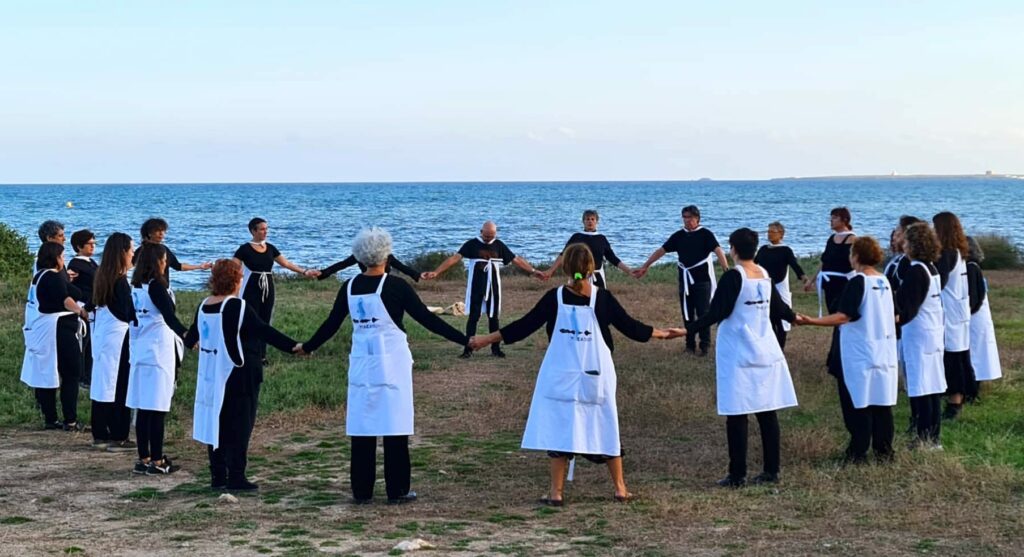 Throughout the year we have focused on the art and culture of the late XNUMXth century in the United States, and specifically on American minimalist music. Along the way, we've learned that minimalist music is diverse, captivating, and often playful. We have also learned that in Madrid there is an audience open to exploring musical genres that are rarely programmed on stage.
We have requested the collaboration of the composer and multidisciplinary artist Sonia Megías

for

organize a concert of contemporary works, especially for voice, that show the influence of minimalism. 'Maximal Voices: Tribute to American Minimalism' was the result.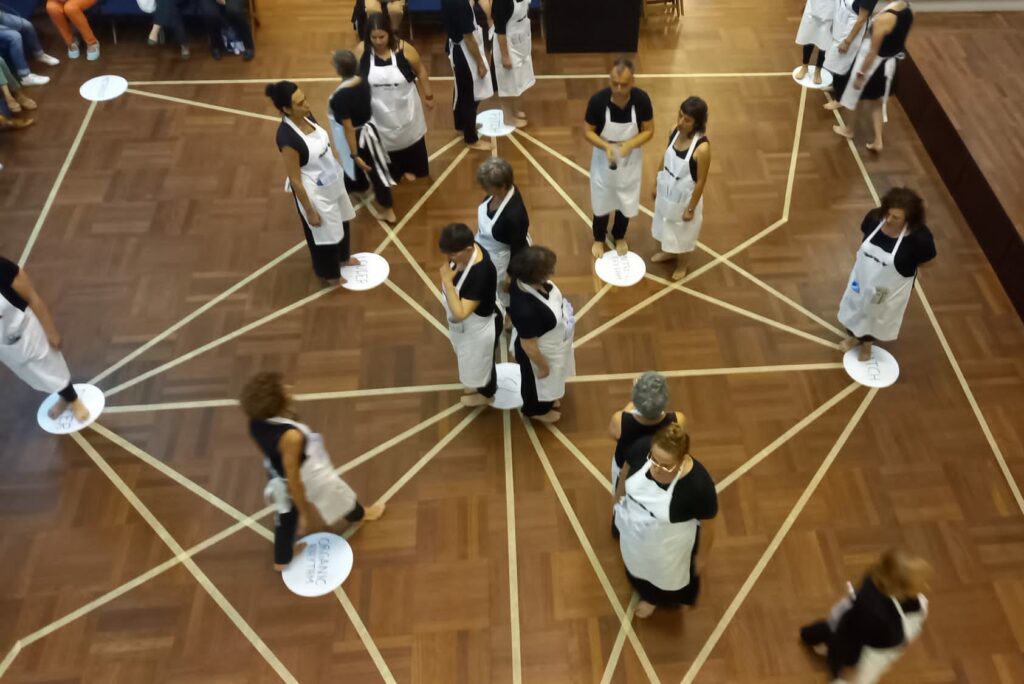 The concert opened with a performance of 'Wind Horse' by Pauline Oliveros, a work based on listening and responding in various ways and using a mandala on the floor as a kind of map to organize and create the performance. It's a sort of "choose your own adventure" for the choir members, who can take their own optional paths, returning to the center circle at any time. The time spent in any circle can be as short as one comfortable breath or many breaths.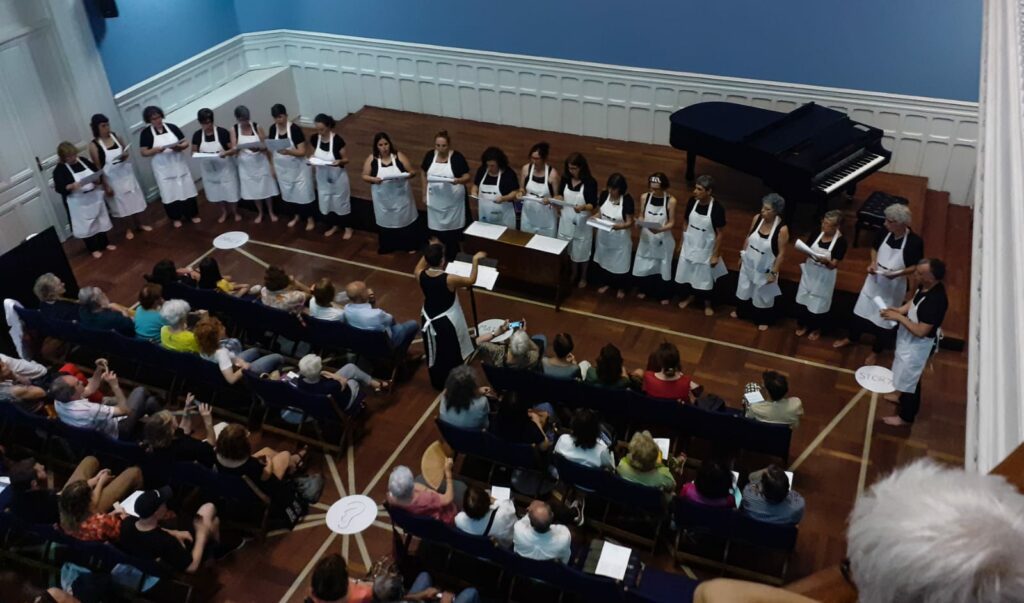 This was just the first of many experimental and innovative works that Megías and the choir presented that night. They showed that American minimalism and its descendants tend to encourage deep listening and a greater awareness of the musical quality of all the sounds around us.
---
From Barber to Bernstein: A Concert of American Song – June 23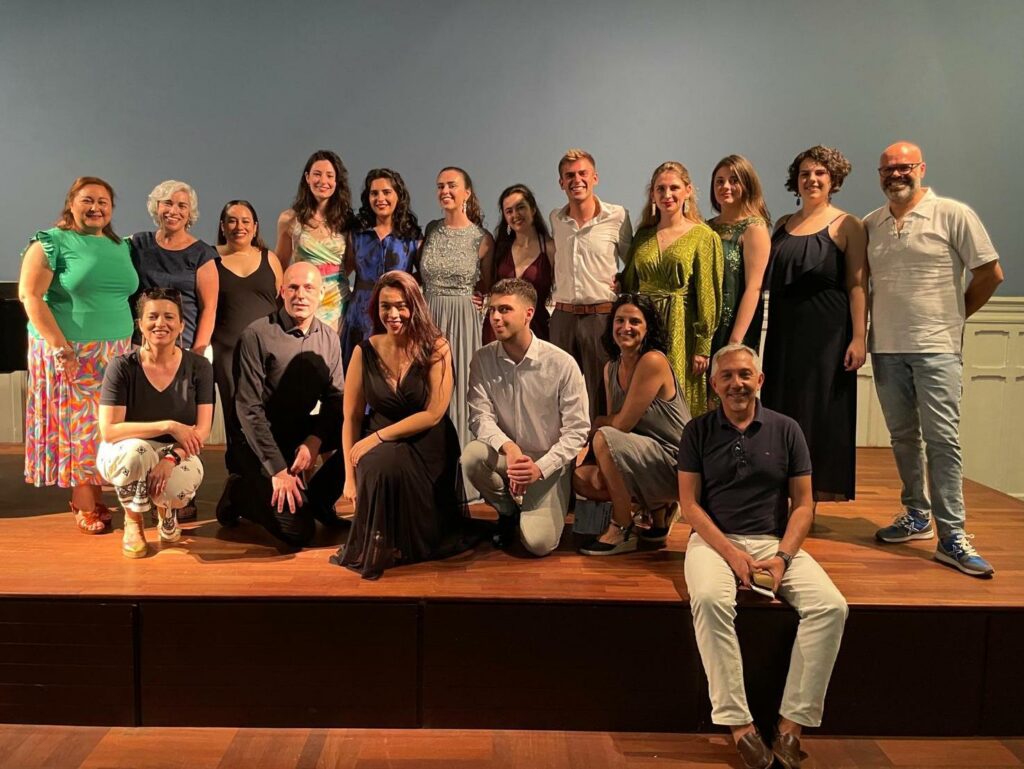 ESCM students: Maria Alvarez, Rocío Díaz, Alexandra Zamfira, Luken Munguira, Pilar López, Sandra Bravo, María Izaga, Román Bordón, Rosario González, Laura Molina and Beatriz Carlsson. Teachers: Cristina Sanchez, María Carmen Garcia Jimenez. Director of the ESCM: Julio Alexis Muñoz. Vice-Director: Jorge Robaina. Pianist: Elías Romero.
In June, a group of singers from the Superior School of Singing of Madrid They prepared a special program of vocal music by American composers to perform in our auditorium. At the 'From Barber to Bernstein' concert the singers were accompanied by the pianist Elías Romero.
This event has come to light thanks to the direction of Helen Tints, singer, actress and voice professor at Florida Gulf Coast University. Helen has been a 2022-23 Fulbright Scholar, researching Sephardic culture in Greece and Spain. While she was in Madrid, she has been collaborating with the English teachers at the ESCM, Cristina Sanchez and María Carmen Garcia Jimenez, doing improvement in North American English.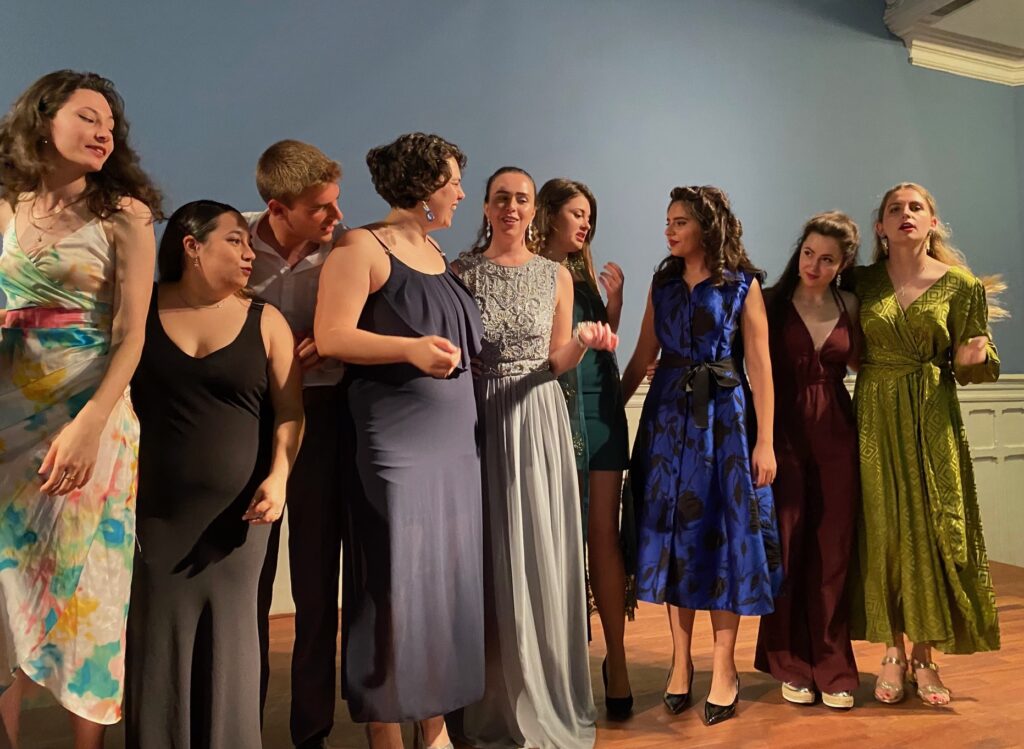 ESCM students greeting after the concert.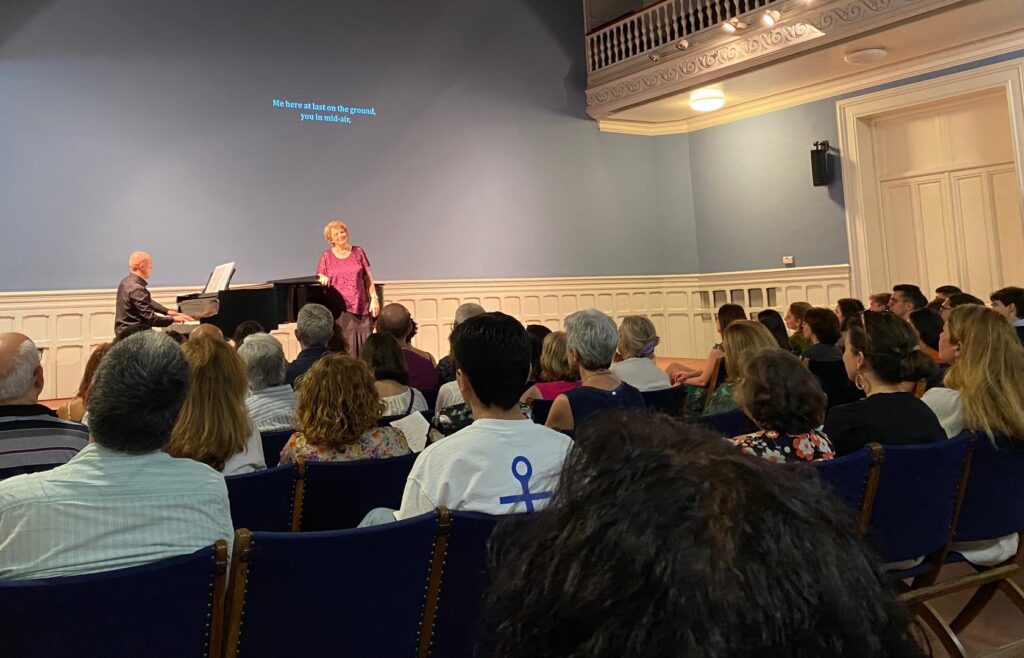 Elías Romero and Helen Tintes performing 'Send in the Clowns' ('A Little Night Music') by Stephen Sondheim.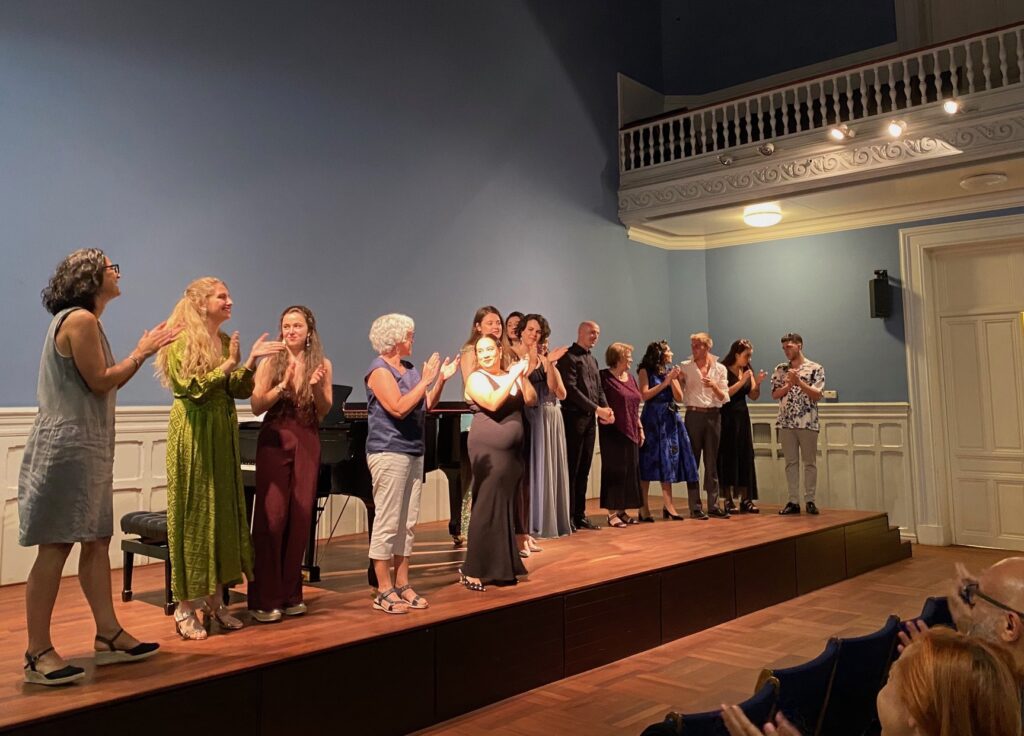 Teachers Cristina Sanchez and María Carmen Garcia Jimenez with the ESCM students and Elías Romero, pianist.
Together they have put together a fantastic program of works by American composers, some renowned, such as Stephen Sondheim and Leonard Bernstein, and others less known outside the United States, such as Amy Beach and Richard Hageman.
It was a wonderful opportunity to hear the voices of some very talented young singers, as well as songs that are rarely performed live here in Spain.