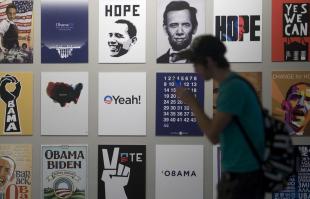 Posted: 3 June, 2011
Comments: No comments
Recommendation for the next few weeks
"Design for Obama" exhibition
"This show is not, therefore, just an exhibition of North American graphic design. We intend to highlight the event that led to President Obama's presidential campaign and, more specifically, his contribution to democratic communication."
Extracted from the page of art ten.
See also:
http://designforobama.artediez.es/
http://www.elpais.com/articulo/cultura/Carteles/Obama/elpepucul/20110524elpepucul_4/Tes
http://www.designforobama.org/
http://www.elpais.com/articulo/Comunidad/Valenciana/Twitter/Facebook/suficientes/ganar/elecciones/elpepuespval/20110526elpval_15/Tes
Dates: May 24 – July 4, 2011.
Place: School of Art 10 (Avenida de la Ciudad de Barcelona, ​​25. 28007 Madrid).
Hours: Monday to Friday, from 08,30:21,30 a.m. to XNUMX:XNUMX p.m.