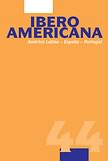 Posted: 14 February, 2012
Comments: No comments
New number received from: IBEROAMERICANA (Year XI, nº 44. December 2011)
Summary of this issue:
ARTICLES AND ESSAYS
*De corpo quase inteiro: photographic portraits and representation in Brazil (1890-1910). Marco Antony Stancik
*Francoism and cultural export. The case of the Spanish Art exhibition in Buenos Aires, 1947. Alicia Fuentes Vega
*New looks at immigration: 14 kilometers or the trip that never happened. Jorge Gonzalez del Pozo
*Meat of a dog, by Fátima Sime: the persistence of the urgent. Christian Montes Capo
DOSSIER: LATIN AMERICA ON SCREEN
*Introduction. james scorer
*Remember the Alamo? Mexicans, Texans and Americans in 1960s Hollywood. Philip Swanson
*"X" Never, ever marks the spot: Latin American lost cities on screen. James Scorer.
*(Trans)National images and cinematic spaces: the cases of Alfonso Cuaron's Y tu madre tú tú tú madre tú (2001) and Carlos Reygadas'Japan (2002). Deborah Shawon (2002). Deborah Shaw
DISCUSSION FORUM
*A look at the 2011 Argentine presidential elections. Nicolás Cherny
*Elections in Guatemala: challenges for representative democracy. Ana Lucia Blas
*Secrets, lies and citizen judgment. Valeria Bosoer
*"Football is like that". Gender, migration and ethnicity in the Ibero-American Women's Football League in Granada. Alicia Allgäuer/Arkaitz Alzueta
GRADES. IBERO-AMERICAN REVIEWS
* Politics and revolution in Venezuela. Nicholas Werz
*Fictions, the Bible, cyber and the encyclopedia: new studies of literary criticism on the work of Jorge Luis Borges. ingrid simson
*Iberian literatures: history and criticism
*Latin American Literatures: History and Criticism
*History and Social Sciences: Latin America
*Index of reviewed titles
Previous summaries in Dialnet
See also magazine website