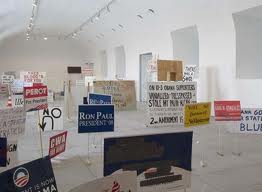 Posted: 8 June, 2012
Comments: No comments
Cultural recommendation for the weekend
Sharon Hayes Exhibition "Speak"
"Using methodological and conceptual strategies from discursive fields such as theatre, dance, anthropology, work with archives or journalism, the projects of Sharon Hayes (Baltimore, USA, 1970) explore relationships, not exempt from tensions, between history, politics and language, and try to dissect the symbolic and narrative mechanisms through which the collective imaginary is built.
Extracted from MNCARS.
See also:
http://www.lafabricaftp.com/phe/SHARON%20HAYES.html
http://cultura.elpais.com/cultura/2012/05/30/actualidad/1338396468_563654.html
http://www.elcultural.es/version_papel/ARTE/31145/Sharon_Hayes
-
Date: May 30 – September 24, 2012.
Venue: Reina Sofía National Art Center Museum (c/ Santa Isabel, 52 28012 Madrid).
Hours: Monday to Saturday from 10.00:21.00 a.m. to 10.00:14.30 p.m. Sunday from XNUMX:XNUMX a.m. to XNUMX:XNUMX p.m. Tuesday closed.
Price: Entry only to temporary exhibitions (€3). Free entry days
Monday to Friday from 19:00 p.m. to 21:00 p.m.*, Saturday from 14:30 p.m. to 21:00 p.m., Sunday from 10:00 a.m. to 14:30 p.m.
* Except groups with reservation.