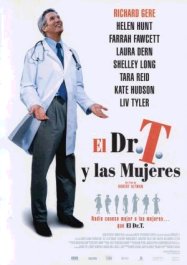 Posted: 12 April 2013
Comments: No comments
The favorite movies of library users
"Dr. T and the Women" directed by Robert Altman
"Dr. T (Richard Gere) is the top women's gynecologist in the city of Dallas. His success is due to his formidable empathy towards the female gender, as he supposedly has an enormous talent for understanding women. However, his whole world falls apart when his own wife, Kate (Farrah Fawcett), has a nervous breakdown and walks away from him.
Taken from The Armchair.
See also:
http://www.filmaffinity.com/es/reviews/1/184752.html
http://www.imdb.com/title/tt0205271/
http://apolo.uji.es/fjgt/T.PDF
The selected titles are a sample of the recently loaned International Institute Library materials.
If you are interested in this work, you can check its availability at IIE library catalog.
(The doctor. T. and the women [DVD] / a film by Robert Altman. — Barcelona: Manga Films, [2000].
1 DVDs (126 min.) : son., col.
Languages: English, Spanish; subtitle : Spanish. — Richard Gere, Helen Hunt, Farrah Fawcett, Laura Dern.
ZW .A447 D7 2000
R. 85018000