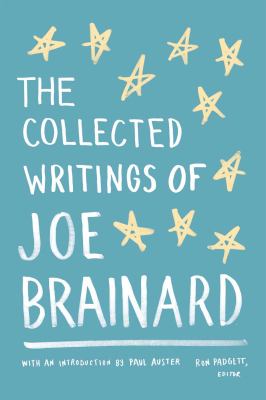 Posted: 14 January 2014
Comments: No comments
Featured news of the week
"The collected writings of Joe Brainard" introduction by Paul Auster & Ron Padgett editor
"Known during his life primarily as an artist associated with the New York School of poets, Joe Brainard (1942–1994) was also a wonderful writer whose one-of-a-kind autobiographical work I Remember ("a completely original book"— Edmund White) has had a wide and growing influence."
Taken from Amazon.
See also:
http://www.loa.org/volume.jsp?RequestID=359
http://www.goodreads.com/book/show/12188269-the-collected-writings
http://en.wikipedia.org/wiki/Joe_Brainard
The recommended titles are in the Library of the International Institute. If you are interested in having access to them, you can check their availability in the catalog of the library
(The) collected writings of Joe Brainard [Print] / introduction by Paul Auster ; Ron Padgett, editor. — [New York]: The Library of America, cop. 2012.
XXVIII, 541 p. ; 21cm
ISBN 978-1-59853-278-4
PS 3552.R275 2012
R. 201165378