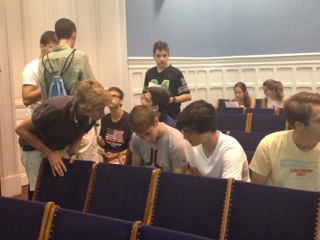 Posted: 16 July 2014
By: wp support
Comments: No comments
Blue and Green groups participate in second language and culture exchange with American students
The Blue and Green groups had another visit from some high school students from the US who were visiting Madrid.
Apart from the visit, they also did lots of other activities related to the Round and Round theme.
Here is what the students had to say about their second week at camp:
This week we had fun. We did a lot of activities. We met some American friends and we learned about their culture.
In our class we played a lot of games and we did a scavenger hunt with the other class.
Álvaro and Alberto wrote:
This week has been as intensive as the last one. We have had a lot of fun, but especially with the American students who came on Wednesday.
Here are some more comments from the Blue group:
We did lots of things this week. We met some Americans and we had fun with them. We did a special activity: a "gymkana" (scavenger hunt) and we had a lot of fun. In general we have enjoyed these two weeks at International Institute.
I liked this week because we did a lot of activities and we also learned a lot.
What will the students report for week 3: Inventors' Workshop?