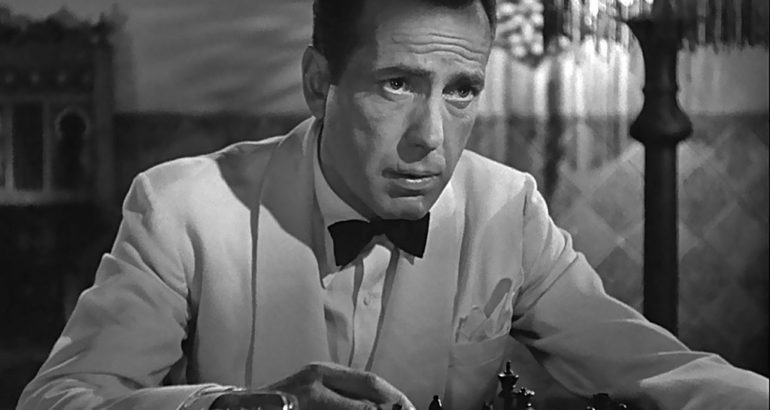 Posted: October 16, 2020
Comments: No comments
THE HOLLYWOOD WITCH HUNT: Casablanca (1942)
October 22
19h - 21.30h
Room 101
Limited capacity due to health protocol
Casablanca (1942, Michael Curtiz) has become one of the most emblematic films of classic Hollywood. However, it was shot with much more modest prospects, despite all the talent involved, and its success exceeded any expectations. It received three Academy Awards out of the eight for which it was nominated and made Humphrey Bogart an icon of the seventh art.
The story centers on Rick, the cynical owner of a nightclub in Morocco, whose heart skips a beat when he sees his old flame Ilsa, a brilliant Ingrid Bergman, cross the threshold of his premises. We discover that Rick is an idealist and a romantic who has extensive experience fighting for lost causes.
This film would immortalize the image of Humphrey Bogart as a man disenchanted with the world but who does not lose his sense of justice. However, during the witch hunts, characters like Rick and his anti-fascist crusades would be frowned upon by the Committee on Un-American Activities. In fact, screenwriter Howard Koch, awarded for his work on the film, would be one of the victims of the blacklist. In 1947 Bogart, like Rick, would fight a losing battle in defense of his peers, along with many other stars, through the First Amendment Committee.
Projection in original version (English) with subtitles in Spanish.
This film series aims to explore one of the most complex and convulsive times in the history of cinema: the witch hunt in Hollywood. In the late 40s and 50s, film producers, directors, screenwriters, actors, musicians, and critics became the targets of spectacular persecution by the Un-American Activities Committee (HUAC). The process, and the media circus that it entailed, profoundly affected the film industry and for years dictated how and who could work in Hollywood.
This selection of masterpieces, released between 1940 and 1960, offers us the opportunity to see in detail the evolution of the cinema of the great Hollywood studios, as well as delve into the turbulent sociopolitical climate in which they were shot and released.
Before each screening, there will be a brief introduction to place each film in the context of the Hollywood witch hunt. After the screening, there will be a short round of questions.